Collision suspected in yacht mishap that killed 3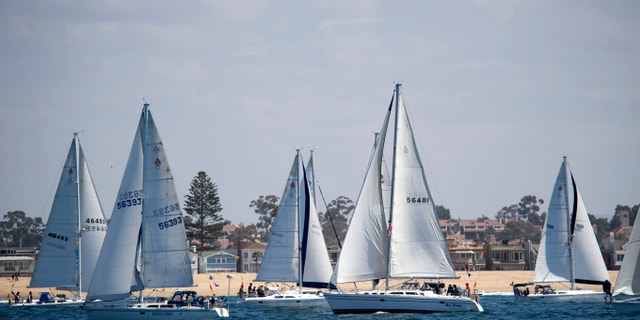 A yacht racing off the coasts of California and Mexico apparently collided with a much larger vessel, killing three crew members and leaving one missing, a sailing organization said early Sunday.
The Newport Ocean Sailing Association was hosting the 125-mile Newport, California to Ensenada, Mexico yacht race when the collision occurred late Friday or early Saturday several miles off the coast near the border.
"An investigation was continuing, but it appeared the damage was not inflicted by an explosion but by a collision with a ship much larger than the 37-foot vessel," association spokesman Rich Roberts said in a news release early Sunday.
Three crew members of a sailboat were found dead and a search was under way early Sunday for a fourth, in the state's second ocean racing tragedy this month.
Coast Guard boats and two aircraft as well as Mexican navy and civilian vessels were searching for the missing crew member.
Other yachts near the Coronado Islands in Mexico reported seeing debris Saturday morning. Searchers in the afternoon found the bodies and debris from the Aegean, whose home port is Redondo Beach, Coast Guard Petty Officer Henry Dunphy said
Two of the dead were recovered by a civilian boat, while the third was found by a Coast Guard helicopter.
The Coast Guard said earlier that it hadn't determined what happened to the sailboat.
Dunphy said conditions were fine for sailing, with good visibility and moderate ocean swells of 6-to-8 feet.
A total of 210 boats were registered in the 65th annual yacht race, according to the Newport Ocean Sailing Association's website. It wasn't immediately clear how many finished.
The association's commodore, reached by phone in Ensenada, told The Associated Press that he didn't know the members of the Aegean or how many people were aboard.
"This has never happened in the entire 65 years of the race that I'm aware of," Chuck Iverson said. "We're all shocked by this whole event."
The names of the dead were not released pending notification of next of kin.
The Coronado Islands are four small, largely uninhabited islands about 15 miles south of San Diego.
The deaths come two weeks after five sailors died in the waters off Northern California when their 38-foot yacht was hit by powerful waves, smashed into rocks and capsized during a race.
Three sailors survived the wreck and the body of another was quickly recovered. Four remained missing until one body was recovered last Thursday.