California man accused of smuggling deadly king cobras in potato chip cans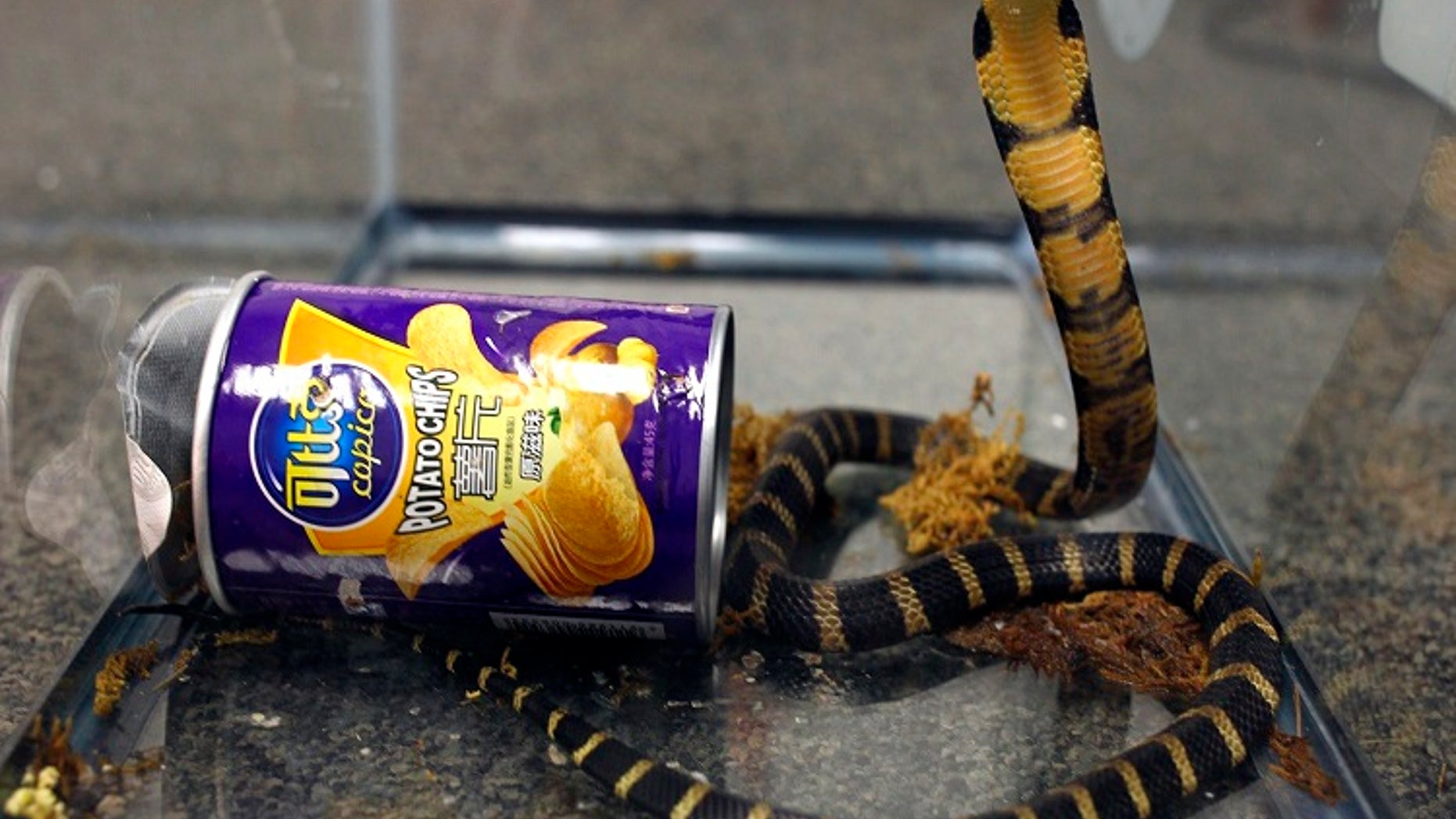 A notorious animal smuggler is accused of trying to sneak a trio of live -- and deadly -- king cobras into the United States by using potato chip canisters to conceal the slithering snakes.
Rodrigo Franco, 34, of Monterey Park, was charged with one count of illegally importing merchandise and is slated to be arraigned in August, the Los Angeles Times reported.
The venomous king cobra snakes – each about two feet long – were found in March when Customs and Border Protection officers inspected a package mailed from Hong Kong, prosecutors said. There were also three albino Chinese soft-shelled turtles in the package, according to authorities.
DAD ARRESTED AFTER ALLEGEDLY LEAVING 16-YEAR-OLD SON IN CALIFORNIA PARKING LOT
The cobras were removed, but the turtles were delivered to Franco's home by federal agents.
Agents serving a warrant allegedly found Franco's home filled with reptiles, including tanks with a live baby Morelet's crocodile, alligator snapping turtles, a common snapping turtle and five diamond back terrapins. Prosecutors said each of those creatures is protected under U.S. law.
This was not Franco's first time being accused in a cobra-smuggling attempt. Franco told an agent from the U.S. Fish and Wildlife Service that he had previously received 20 king cobras in two other shipments, but he said they all died in transit, according to court documents.
CALIFORNIA TEEN SUSPECTED OF CAUSING DEADLY CRASH POSTED ON INSTAGRAM
Agents searched Franco's phone and discovered messages he exchanged with a person in Asia regarding shipping turtles and snakes between Hong Kong and the U.S., prosecutors said. Franco said in those messages that he had previously received live cobras and planned to give five of the snakes to a relative of the contact in Virginia, court papers said.
If convicted, Franco could spend 20 years in prison.
The Associated Press contributed to this report.