Body found in suitcase in Utah linked to missing Las Vegas woman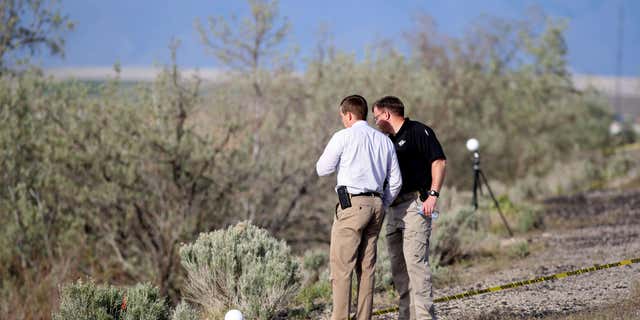 Police in Utah and Nevada are trying to determine whether a body found in a large suitcase along a freeway near Salt Lake City is that of a missing Las Vegas woman.
There are signs the body found Thursday in a ravine along Interstate 80 is that of Susana Villalvazo, but investigators are awaiting test results before making a final determination, Lt. Justin Hoyal of Utah's Unified Police Department said Saturday.
His department was contacted by Las Vegas police after the body was described as that of a middle-aged woman who had a mastectomy and a wrist tattoo of a pink breast cancer ribbon, Hoyal said. When the 46-year-old Villalvazo went missing last November, Las Vegas police said she was missing a breast and had a pink-ribbon tattoo on a wrist.
"Obviously, there are close similarities between the two. But we'll have to wait until we get lab testing results for 100 percent certainty," Hoyal told The Associated Press. "We're hoping within the next several weeks to have that finalized."
The body was so badly decomposed that investigators could need DNA testing or dental records to establish the identity, he added.
State transportation workers stumbled across the suitcase about 18 miles west of Salt Lake City. Police believe the woman was shot to death before her body was stuffed in it and dumped along the interstate. The body had been there for several weeks to several months, they added.
Villalvazo and her stepfather, Samuel Teran, 75, were reported missing under suspicious circumstances from their family's Las Vegas home on Nov. 5. Two days later, Teran shot himself in the head after police stopped his SUV outside a fast-food restaurant in North Las Vegas. He later died in a hospital.
The two were believed to be traveling together in the SUV earlier, and family members said they did not get along.
Villalvazo's cousin, Juan Villasenor, said he was surprised it took so long to find the body because the suitcase was dropped along a busy interstate.
"We were hoping to find a body in a couple of months, not this long ... It's kind of shocking for us to find out they found the body and everything because we were hoping she was somehow still alive," he told KLAS-TV of Las Vegas.