Bloody Baltimore: No end seen to post-Freddie Gray spike in homicides, shootings
NEWYou can now listen to Fox News articles!
Baltimore's bloody summer ended with a barrage of bangs, as the rate of homicides and gun crimes continued to spike in the wake of the racially charged case of Freddie Gray, whose death in police custody left citizens angry and cops demoralized.
For September, homicides were up 39 percent and non-fatal shootings nearly doubled over the same month in 2014, continuing a disturbing trend that has gripped the Charm City since Gray's death in April and the rioting that followed. For the year, murders are up 52 percent and non-fatal shootings 80 percent over last year.
"We have highly motivated bad guys in Baltimore," Baltimore police spokesman T.J. Smith told FoxNews.com.
"I don't think police officers are going to engage potential gang members the way they did before Gray"
For the year, the 246 homicides recorded through Sept. 26 put Baltimore dangerously close to the record pace of 1993, when 353 people were victims of homicide. The fact that the spike occurred after April 19 bodes even worse: Before the unrest following the Gray arrest, Baltimore had recorded 65 homicides for the year. A four-decade high of 42 homicides in May was topped in July when 45 people were killed in homicides, making Baltimore the second deadliest city in America on a per capita basis, trailing only St. Louis.
Whether due to demoralized cops, emboldened criminals or some combination of the two, the city is scrambling to turn the tide. Twenty-six killings in September represented a welcome drop from the record 43 seen in May, when the city was roiled by protests and police were ordered by the mayor to stand down in the face of riots. In a statistical quirk that may have an ominous explanation, other categories of violent crime, such as rape, robbery and assault, are only up marginally since the death of Gray, a drug suspect whose death in a police van led to criminal charges against six cops.
In the wake of the riots and amid a strong perception Mayor Stephanie Rawlings-Blake and other civic leaders did not support cops, union officials openly acknowledged that their members felt abandoned.
"Everywhere they go, they are getting challenged," Lt. Gene Ryan, president of the Baltimore Fraternal Order of Police, told Fox News Channel's Greta Van Susteren in May, days after six cops were indicted on charges ranging from misconduct to depraved-heart murder. "They are just -- they are being attacked at every different angle and they're not getting the support they need and deserve."
Shootings, and especially murders, require police engagement, while lesser offenses may go unreported amid more serious crimes and a hesitant department, said Michael Greenberger, a law professor at the University of Maryland who studies policing. He and other experts say a "less assertive" police force, perhaps out of anger at their treatment by city elders, perhaps out of fear that engagement could put them in the firing line, is showing up in the statistics.
"I don't think police officers are going to engage potential gang members the way they did before Gray," Greenberger said. "Gang violence is not necessarily rape and robberies, but killing is."
John F. Banzhaf, a professor of public interest law at George Washington University, theorized that the "anti-snitch" mentality of some neighborhoods makes it harder for police to charge suspects, and also suggested that police can talk a victim out of reporting less serious crimes.
"Murders, you can't cover up," Banzhaf said, referring not specifically to Baltimore's situation, but to crime statistics in general. As for other crimes, "there's a natural reaction to step back and not want to risk a possible indictment," he said. "Less assertive police response means more guns on the streets."
Gray, who died of injuries suffered in a police van April 19, had been arrested after police said he "fled unprovoked upon noticing police presence." The death sent a shock wave through the city, and sparked several days of riots, looting and burning of buildings. Time magazine reported in June that since the Baltimore police officers were indicted, "police officers' concerns over potential prosecution for improper use of force now appear to be holding many of them back from arresting suspects altogether. When they do, they're surrounded by smart-phone wielding citizens. It's as if the police are no longer patrolling Baltimore the way they once did; instead, the citizens are patrolling them."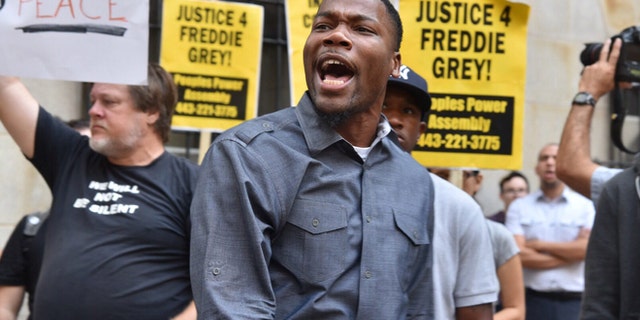 There was a panel earlier this month at Mount St. Mary's University where city leaders discussed the summer crime rate. The embattled former police commissioner, Anthony Batts, made headlines when he said it appeared police were "taking a knee" due to lack of political support from city leaders. The city's interim police commissioner insisted that police officers remained vigilant and seized 44 percent more guns this past summer than last summer, and 238 "trigger pullers" have been identified and cases are being built against them.
Smith acknowledged that it has been a violent year in the city, but noted other cities have seen a similar rise in crime. Indeed, Baltimore's increase is comparable to that of Washington, D.C., which has seen a 48-percent increase. New York City has seen a 9.6-percent increase in homicides so far in 2015.
Although the year-over-year picture remains alarming, Smith pointed out that the number of homicides in the city have dropped each month since hitting its peak in July. He said the police department is working on improving communications with parole officers and employs a B-FED task force, which puts federal agents inside the city's homicide unit under city police orders. Smith downplayed the role Gray's uproar played in the homicide increase.
"The people who are going out killing people are not looking to better the community," he said. "They're trying to take advantage of an opportunity."
Follow @EDeMarche on Twitter