Attack on Marine at Florida Theater Comes Months After Brother's Death at Navy Hospital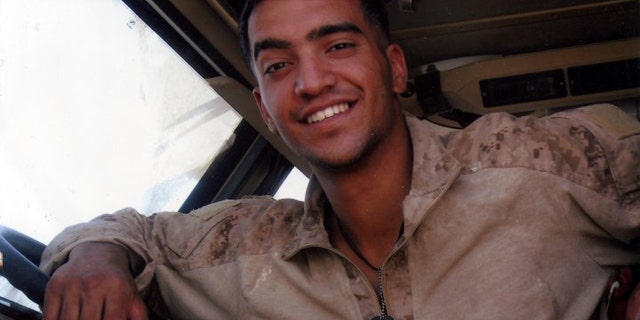 NEWYou can now listen to Fox News articles!
The recent attack on a Marine and his wife outside a Florida movie theater is the latest indignity suffered by a family still reeling over the accidental death this year of a brother at a U.S. naval hospital.
Federico Freire, a 28-year-old Marine, and his wife, Kalyn, were attacked Saturday by a mob of unruly teenagers after the couple asked the group to be quiet during a movie at a Bradenton, Fla., cinema, as FoxNews.com reported Wednesday.
Police found Freire and his wife "battered" in the theater parking lot, and they arrested four juveniles and one adult in the violent altercation.
For Freire, who had just returned from Iraq, the melee that knocked his wife to the ground was the latest woe for a family still devastated by the death of his brother, Lance Cpl. Ezequiel Freire.
Ezequiel Freire, a 20-year-old Marine who spent eight months in Afghanistan, died Feb. 13 after doctors served him a deadly cocktail of narcotics and sedatives as he awaited cancer treatment at Portsmouth Naval Medical Center in Virginia, his family said.
"I was the one who found him dead," Federico Freire said in an interview Thursday. "He was my brother, my best friend."
He added: "I think that day I died with him."
The younger Freire returned from combat duty unscathed in November 2009, but he later complained to family of pain in his heart, his sister Karina Piovera told FoxNews.com. Piovera said medical tests later showed that her brother had a large mass in his chest believed to be Hodgkin's lymphoma, a form of cancer.
Freire was transported to Portsmouth Naval Medical Center where a team of 20 doctors treated him with eight drugs -- some for pain, others for anxiety and sleeplessness, Piovera said.
On the afternoon of Feb. 12, Piovera said her brother received a dose of fentanyl, a powerful narcotic, in combination with painkillers oxycodone and OxyContin already in his system that she said proved lethal. She said Freire's death certificate states that he died from "multi drug toxicity."
"It was a cocktail of death," Piovera said. "Their negligence killed my brother."
Piovera and Freire added that their brother was "never on a heart monitor" and said family members repeatedly expressed concern to hospital staff that he was over-medicated.
Adding to the family's devastation, Freire said he couldn't pursue legal action against the hospital due to the Feres Doctrine, which bars lawsuits from families or service members in malpractice and wrongful death cases.
"The law needs to be changed," Piovera said. "The doctors who took care of him shouldn't be practicing medicine."
"They just got away with murder, whether it was accidental or not," added Freire.
The Navy Bureau of Medicine and Surgery said Thursday that it could not discuss the treatment Freire received or the cause of death due to patient privacy laws.
In an e-mail statement sent to FoxNews.com, a Navy spokesman, Capt. Cappy Surette of the Bureau of Medicine and Surgery, said, "We are very saddened by the loss of Lance Cpl. Freire and we extend our deepest sympathies to his family and friends during these difficult times.
"The Naval Criminal Investigative Service has conducted an investigation into the death" and "the results of that investigation have been turned over to the hospital for review."
But the statement adds that the results of such "quality assurance investigations" are "not releasable per Title 10, United States Code Section 1102."
Surette said, however, that any doctor found unable to practice medicine "safely" will "typically have his privileges suspended or revoked, be reported to the NPDB (National Practitioner Data Bank) and be recommended for separation."