Marine Home From Iraq War, Wife Allegedly Assaulted Outside Florida Theater by Teen Mob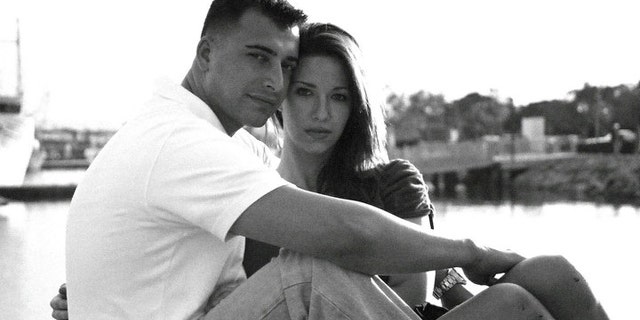 He made it home from the Iraq war just in time for Christmas. She was looking forward to a night out with her husband after so much time apart.
But a group of teenagers had other plans for Federico and Kalyn Freire, who were assaulted outside a Florida movie theater after asking the teens to be quiet during a movie on Christmas Day.
Federico Freire, a 28-year-old Marine, and Kalyn Freire were attacked after the couple attended a showing of "Little Fockers" on Saturday in Bradenton, Fla.
"The saddest part about it was that this was our first date night together in a long time," Freire's wife, Kalyn, said in an interview Wednesday with FoxNews.com. "We were just looking to spend some time together."
Freire, a Florida native stationed at Camp Pendelton in California, said he and his wife asked a group of "obnoxiously loud" teenagers talking on cell phones to "be quiet" during the 8:20 p.m. movie.
"This was my first time back in town from my tour in Iraq," he said.
Freire told FoxNews.com that news outlets reporting he was home on leave from Afghanistan were incorrect, and that he had served a combat tour in Iraq and currently was stationed at Camp Pendleton, Calif.
Freire said that when the disturbance escalated and the group began cursing, his wife called the manager, who asked several of the teenagers to leave the theater.
The couple said they thought the fracas was over until they walked out of the theater and were assaulted by a mob of menacing teenagers.
"On our way out of the movie theater, my wife gets surrounded with about 10 to 15 girls that were about to attack her," Freire told FoxNews.com. "As soon as I saw this I immediately ran and got her out of harm's way."
Freire said he was kicked and punched as he and his wife tried to run from the group.
"I leaned down to grab my purse and there were literally 100 teens around us," Kalyn Freire said, "While the manager was in the corner with his mouth open and not doing anything."
Freire said one bystander stepped forward and told the couple to follow him to his car, saying he could scare the crowd off with a gun. But before the two reached the man's vehicle, one of the teenagers said, "I'm going to knock your wife out," before punching Freire's wife to the ground, the couple said.
Deputies from the Manatee County Sheriff's Department responded to the scene and arrested two 15-year-old brothers and charged them with misdemeanor battery.
According to a police report, three others -- 16-year-old Ishmael Dunbar, 17-year-old Reginald Gardner and 20-year-old Destiny McNeil -- were arrested and charged with felony battery on a law enforcement officer and trespassing.
"All available units were requested to respond to disperse the crowd for officer safety and to restore order," the police report said. One teenager was stunned by a Taser.
Authorities said the fight attracted about 300 bystanders.