Atheist monument at Florida courthouse to rival 10 Commandments display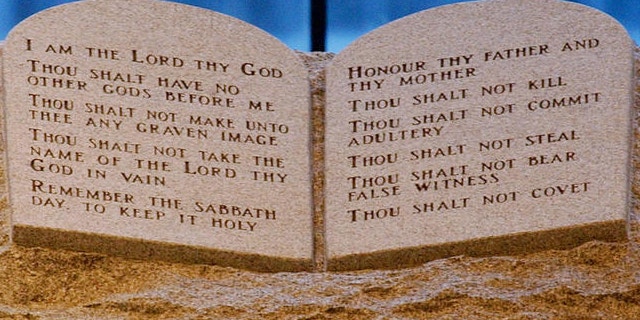 STARKE, Fla. – A North Florida county courthouse will soon be home to what's believed to be the first public monument dedicated to atheism in the nation.
Bradford County has reached a deal to allow American Atheists to install a 1,500-pound granite bench near the county courthouse. The bench will feature quotes from Thomas Jefferson and Madalyn Murray O'Hair.
It will also include a list of punishments for violating the Ten Commandments, including stoning, and will include a quote from the Treaty of Tripoli, a late 18th century peace agreement that declares the U.S. was not founded on Christianity, The Gainesville Sun reported.
The placement of the monument in late June ends a lawsuit between American Atheists and the county. The national organization filed its lawsuit after Bradford County allowed a local group to install a monument that lists the Ten Commandments.
Dave Muscato, public relations director for American Atheists, told The Gainesville Sun that if religious groups are allowed to have monuments "it's only appropriate that we have matching monuments."
The Community Men's Fellowship, the group that erected the Ten Commandments display, made a Facebook post in March that thanked those who supported the monument and stated, "God worked this out," the newspaper reported.
"We want you all to remember that this issue was won on the basis of this being a free speech issue, so don't be alarmed when the American Atheists want to erect their own sign or monument. It's their right. As for us, we will continue to honor the Lord and that's what matters," the post read.
Click here for more from The Gainesville Sun.
The Associated Press contributed to this report.