Air Force colonel who faced rape charge found dead in home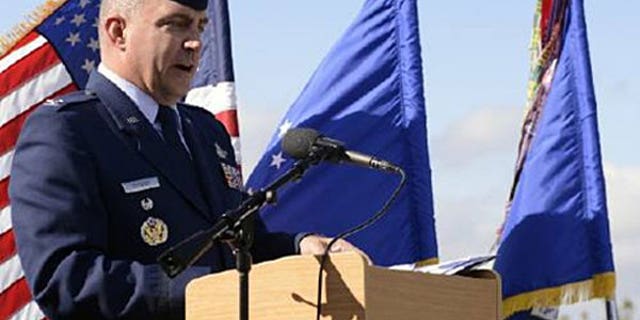 A high-ranking Air Force Space Command officer who was charged with rape and other crimes was found dead in his Colorado home after civilian police received a report of a suicide, officials said Monday.
The body of Col. Eugene Caughey, 46, was found Sunday at his off-base home in Colorado Springs, city police said.
Authorities haven't said how he died.
Caughey was relieved of his duties in June 2015 after the rape investigation began, the Air Force has said. His court-martial was scheduled for Oct. 17.
The officers who found him dead were responding to a report of a suicide, Colorado Springs police Sgt. Tim Stankey said.
The coroner's office said it could be four to six weeks before the findings of an autopsy are released.
Caughey had been vice commander of the 50th Space Wing at Schriever Air Force Base outside Colorado Springs. The unit operates military communications and weather satellites, as well as global positioning system satellites, which have broad civilian and military uses.
Caughey was accused of raping a woman in late 2014 or early 2015. He was also charged with adultery, indecent filming or photography, dereliction of duty and conduct unbecoming an officer.
Prosecutors accused him of photographing his exposed genitals while in uniform and groping women twice.
His civilian attorney, Ryan Coward, said Caughey was looking forward to his day in court and had been participating in his defense.
"I think this surprised everybody," Coward said, adding that his client had served honorably for 20 years. "This is just a very tragic event that occurred for him and his family."
Caughey's family had no comment, Coward said.
Caughey joined the Air Force in 1993. He said he survived the Sept. 11, 2001, terror attack on the Pentagon, according to a story on the Schriever Air Force Base website.
"I was a captain inside the Pentagon that morning when a plane crashed into the west side of the building," Caughey wrote.