AFT boss Randi Weingarten ripped for Ukraine trip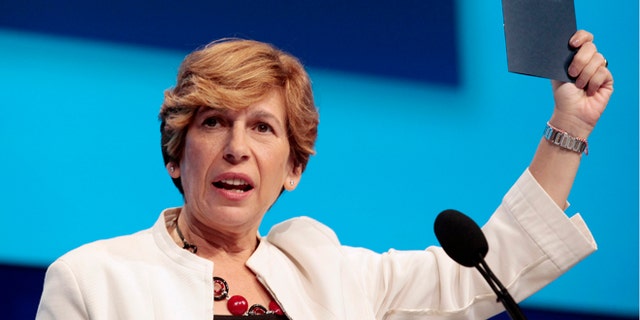 The boss of the American Federation of Teachers is on a field trip — all the way to the Ukraine — on a visit paid in part by dues-paying rank and file members of her union.
Randi Weingarten told FoxNews.com she arrived in Kiev on Thursday as part of a delegation of teacher union leaders from five nations, including the United Kingdom, Poland, Denmark and Bulgaria, as an act of solidarity and to "promote democratic values." The tab for the trip was split by AFT's 1.5 million members and the Trade Union of Education and Science Workers of Ukraine (STESU), which invited the union bigwig.
Weingarten told FoxNews.com during a brief telephone interview from a coffee shop in Kiev that AFT has had a longstanding tradition of supporting democratic institutions around the world.
"It's always been a part of who we are," said Weingarten. "I decided it was important enough to go, and the most important thing I've learned during this trip is that the Russian propaganda about how the Ukrainian government is fragile and destabilizing is totally and completely wrong."
But at least one critic said Weingarten should focus more on pressing domestic issues.
"It doesn't sound like it's really a policy matter; more publicity than policy," said Ted O'Neil, spokesman for the Mackinac Center for Public Policy, a Michigan-based nonprofit educational group. "I would like to hear her say that her next trip with be here to Michigan to try and help Detroit's public school, which is an AFT affiliate, rather than globetrotting."
Weingarten, who earns $407,323 per year, did not indicate the cost of three-day trip, but said some of the expenses incurred by her and an assistant were paid by their Ukrainian union hosts. Weingarten said she sought to provide advice and to have "conversations about democracy and how to promote democratic values," as well as to help repair the union's central office building in Maidan Square, which was demolished by local police.
"And what we've seen is that people are clearly worried about safety," Weingarten continued. "And the educators are very worried about what's going to happen with public educations. There's a lot of worry here." Weingarten, who said she's staying near Kiev University in the city's downtown district, is scheduled to leave early Saturday.
The delegation was led by Education International, a global union federation of teachers and education support employees representing roughly 30 million members. The union's general secretary, Fred van Leeuwen, is now seeking help to relocate STESU's offices and to reestablish its contact with regional and local chapters.
"We must help them get back on their feet as the teachers' organizations of the Ukraine play a vital role in uniting the country and strengthening the democratic movement," he said in a statement.
But O'Neil said some teachers earning $40,000 per year and forced to pay union dues may be hard-pressed to understand why their leader is needed in Ukraine.
"It really points out why policies such as Right to Work are so important because I don't necessarily know that this is what union dues should go for," O'Neil said. "I'm sure there are a lot of AFT members who would be surprised to learn that their union is taking up foreign policy, so to speak."