4 teens accused in suspected rape of 18-year-old in Idaho, report says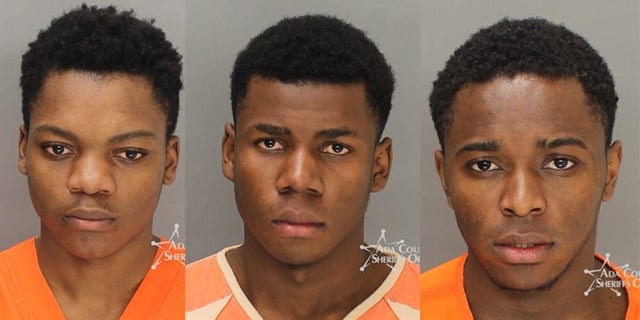 Authorities in Idaho arrested and charged four teenagers on suspicion of rape on Thursday and Friday, including a 16-year-old who was also taken into custody.
Nineteen-year-old Elias Lupango, 18-year-old Rashidi Mulanga and 18-year-old Swedi Iyombelo, all of Boise, were charged. Bail was set at $250,000.
Prosecutors say the three men are from Tanzania. The Idaho Statesman reported that Iyombelo had been in the U.S. for five months and the other two for three years. The report said that they had worked at McDonald's.
The 16-year-old, who is also a refugee, was being held in juvenile detention.
Authorities say the 18-year-old woman was raped on or around Feb. 7 after agreeing to meet one of the men.
Authorities say the woman initially consented to having sex with Iyombelo, but then told him to stop. Police say the three other defendants then took turns raping the victim. The prosecutor said that the alleged victim said she was afraid that if she told them to stop, she'd be killed.
The three men told the court the accusations are false.
A public defender reportedly said that the men were paying for sex and the case was "complicated."
"Apparently she had been aware that there were four of them and that they were going to pay her for sex," the attorney said, according to KTVB. "There's a little more to this story than we all know at this point."
The Associated Press contributed to this report