DeMaryius Thomas thanked President Obama for pardoning his mother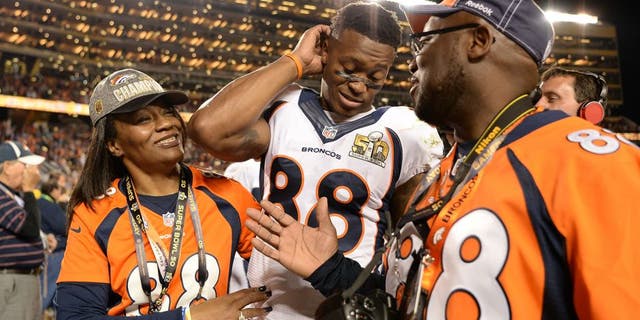 NEWYou can now listen to Fox News articles!
One of the nice off-field stories surrounding Super Bowl 50 was that of Broncos receiver Demaryius Thomas' mother watching the game in person several months after her early release from prison, where she had been serving a 20-year sentence for refusing to testify against Thomas' grandmother in a drug trafficking case.
On Monday, Thomas had the chance to personally thank the man responsible for his mother's release, when the Broncos visited President Obama at the White House. Last summer, Obama pardoned the sentences of 46 nonviolent drug offenders from federal prison, and Katina Smith was one of those inmates. She had been in prison since 2000.
"We talked for a quick second. I told him, 'I thank you for what you've done for my family [by] giving my mother clemency," Thomas told reporters. "He held me back for a little second. Everybody was going by shaking his hand, and we had like a 45-second conversation. So it was cool."
Thomas also hopes that the President can help his grandmother, Minnie Thomas, who is serving a life sentence for conspiracy to distribute crack cocaine.
"Also, we talked about my grandmother," Thomas said. "Had the application to get everything done, and he's looking into that, as well."