Copa America: Uruguay vs. Paraguay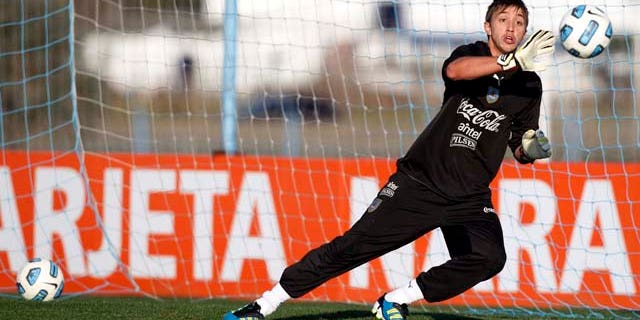 You know Copa América means something to these countries big time or you wouldn't have Venezuela president Hugo Chávez complaining about the officiating.
While undergoing cancer treatment in Havana, Cuba, an incensed Chávez tweeted that the Venezuelans were robbed of a goal in its elimination to Paraguay on Wednesday night.
"THEY ROBBED US OF THE VICTORY GOAL!" Chávez tweeted. "why the devil was that referee going to nullify such a spectacular goal?"
Oswaldo Vizcarrondo's goal was called back because he was offside. The game ended in a scoreless tie after 120 minutes as Paraguay prevailed in the shootout, ending Venezuela's underdog dreams of pulling off another major stunner at South America's most important competition outside of World Cup qualifying and the big dance itself.
All complaining and tweeting in the world won't change the foes in the final confrontation on Sunday.
Just call what will transpire at Estadio Monumental in Buenos Aires, Argentina, the battle of the Guays – as in Uruguay vs. Paraguay.
Who could have predicted such a final in what has morphed into one of the wildest and craziest Copas to date? Everyone (perhaps except those soccer fanatics in Paraguay and Uruguay) probably thought at the beginning of this month that old standbys Argentina and Brazil would be bumping heads – literally and figuratively for the championship – again.
Not so fast, the rest of the field said.
We all know what happened to them – quarterfinal elimination in a pair of underachieving performances that have both coaches under fire.
But we'll deal with that another day.
Sunday will be either Uruguay's or Paraguay's day.
Uruguay hasn't paraded around with the Copa trophy since 1995, Paraguay not since 1979.
Looking at the match-up, logic states that Uruguay should be the favorite. But in this tournament, logic has been all but thrown out the window with the two unlikely finalists.

Start with Exhibit A: the Paraguayans, who have become the masters of survival the past 13 months.
It is mind-boggling, but they have yet to win during the run of play in Copa, just doing enough to get by and reaching the knockout round by the skin of their collective teeth.
They finished third in their group behind Brazil and Venezuela, drawing all three of their Group B matches – 0-0 with Ecuador, 2-2 with Brazil and 3-3 with Venezuela (if this was the World Cup, Paraguay would have been eliminated after the opening round).
The Guaraní continued their tying experience in the knockout rounds, besting Brazil via penalty kicks after a scoreless draw in the quarterfinals and eliminating Venezuela via spot kicks after yet another 0-0 match.
Officially, they don't go down as wins. In the FIFA world, shootouts are counted as a tie for both teams.
Incredible as it may sound, Paraguay has gone deep in two big time international competitions by winning only once in 10 games. In last summer's World Cup in South Africa, the Paraguayans won but once in five matches – a 2-0 decision over Slovakia in the opening round.
They were eliminated by eventual champion Spain in the quarterfinals, 1-0, while recording a 1-1-3 record.
They don't play with much flair and will play a rather bland style, just enough to get by in this tournament, not exactly the best advertisement for the sport.
Paraguay will have a few more obstacles to overcome on Sunday. The Guaraní won't have coach Gerardo Martino on the bench, as he was slapped with a two-game suspension for the post-match brawl with Venezuela.
Both teams were fined $10,000 for the scuffle. The team also won't have midfielder Jonathan Santana, who was red carded during the match. Striker Roque Santa Cruz and left fullback are injured were considered doubtful on Friday.
Uruguay, on the other hand, has taken a slightly more conventional route to the final, actually winning a first-round game with going undefeated (1-0-2), tying Perú, 1-1, and Chile, 1-1, before recording a1-0 win over essentially an Under-23 Mexico side.
The Uruguayans woke up in the quarterfinals, overcoming host Argentina in penalties, 5-4, after a 1-1 draw in 120 minutes of regulation. They then showed Perú the door in the semifinals behind a 2-0 triumph.
It may be difficult to believe, but La Celeste once ruled the roost in international soccer, capturing the 1924 and 1928 Olympic gold medals, the closest thing the sport had to a world championship at the time.
It was due to the success of the tournament that the very first World Cup was hosted in Uruguay in 1930. Not surprisingly, the hosts prevailed over its arch-est of rivals, Argentina, in the 13-team tournament.
The Uruguayans also have another World Cup in their trophy case – the 1950, in which they stunned host Brazil at Maracana Stadium, against a team that also boasted the father of the great Pelé.
They were forced to take a back seat to Brazil and Argentina until last summer when the team became the only South American side to reach the final four.
Not too shabby.
And just about every African soccer fan remembered how the Uruguayans accomplished that – when Luis Suárez denied Asamoah Gyan a goal by blocking his shot with his hand.
Suárez was given a red card, Gyan a penalty kick – that he missed. The Uruguayans overcame Ghana in a shootout and eventually lost to the Netherlands in the semis and finished fourth.
Had Ghana won, it would have become the first African team to reach a World Cup semifinal.
Suárez was reviled in Africa and many parts of the world, certainly not in Uruguay, where he was hailed as a hero and someone who could think on his feet quickly.
Earlier this week Suárez became the toast of Uruguay again, making sure La Celeste would not be toast. He grabbed the spotlight from his renowned teammate, Diego Forlán, not by denying any one goals, but by denying Perú a chance to reach the semifinals, striking for a brace in a 2-0 victory.
On paper, Forlán and Suárez and company are the more talented side and are considered the favorites against Paraguay. But as we know from watching the beautiful game, the best team not always wins. Sometimes the ugly game prevails.
Let us pray to the soccer gods that doesn't happen or Uruguay president José Mujica could be tweeting his protests come Sunday night.
Michael Lewis, who has covered international soccer for three decades, is a frequent contributor to Fox News Latino. He can be reached at SoccerWriter516@aol.com.
Follow us on twitter.com/foxnewslatino
Like us at facebook.com/foxnewslatino