Obama to Return U.S. Ambassadors to Syria, Venezuela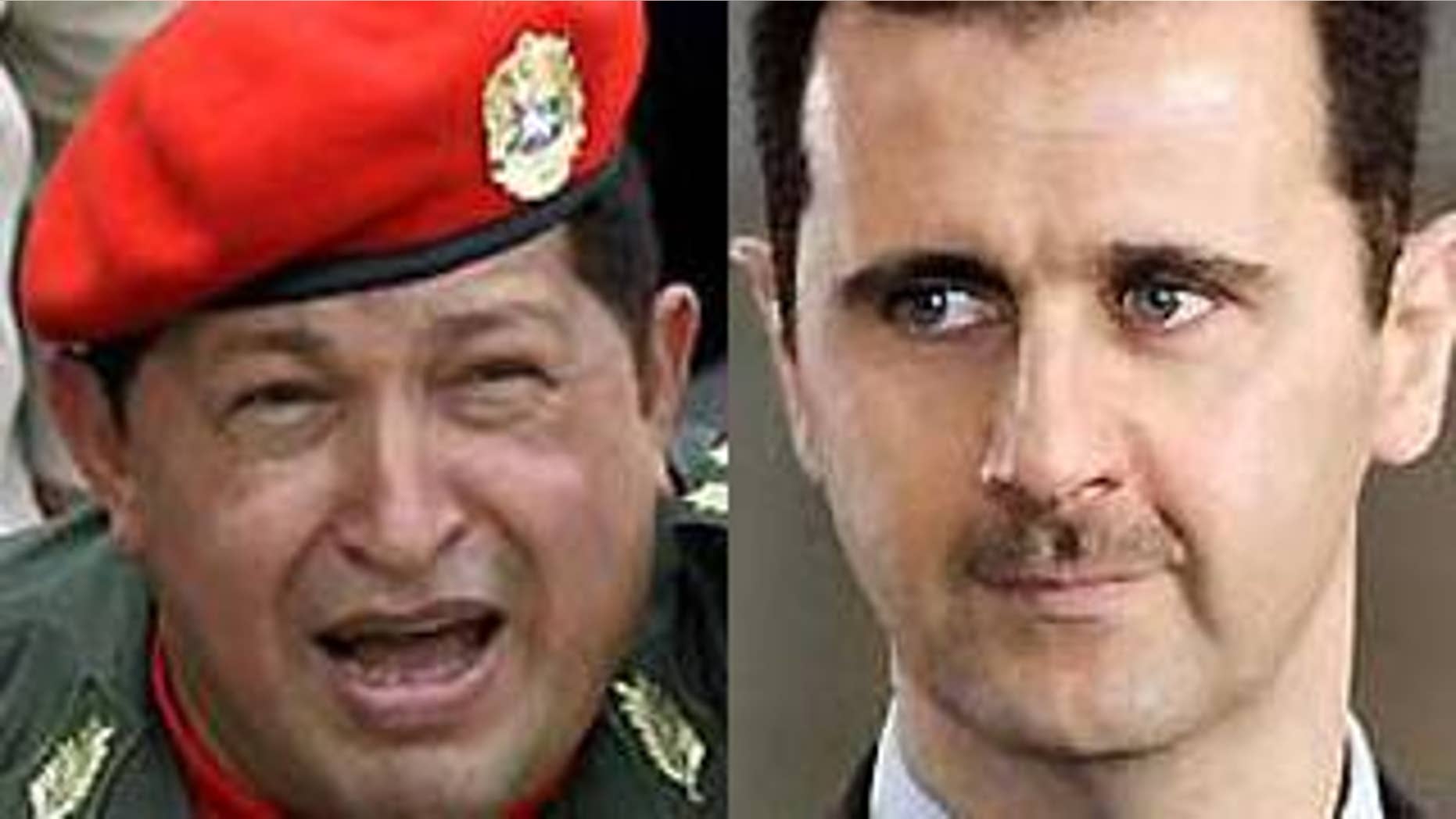 The Obama administration has decided to return an ambassador to both Venezuela and Syria after a diplomatic hiatus with both countries, FOX News confirmed Wednesday.
The United States and Venezuela have been working to reinstate ambassadors to each other's capitals since Secretary of State Hillary Clinton met with Venezuelan President Hugo Chavez in April at the Summit of the Americas, a State Department official said. The move would reverse a tit-for-tat the countries had last year, when Venezuela kicked out the U.S. ambassador and the United States did the same to Venezuela's envoy.
"The necessary measures are being taken" to return the diplomats to their posts, the official said. "It's in the best interests of both countries."
The diplomatic freeze with Syria dates back much further, and a restoration of ties with the Middle Eastern country is seen as part of a broader effort to achieve a comprehensive peace between Arabs and Israelis in the region.
This diplomatic effort is said by knowledgeable sources to include a quiet campaign by the Obama administration to "bring Hamas into the (peace) process."
The decision to return an ambassador to Syria was reached late Tuesday in a "deputies meeting" at the White House, a State Department official told FOX News. Jeffrey Feltman, acting assistant secretary of state for Near Eastern Affairs, informed Syria's ambassador to the United States of the decision to restore an ambassador Tuesday night.
The last U.S. ambassador to Syria, Margaret Scobey, was recalled to Washington in February 2005 as an immediate sign of Washington's outrage over the assassination of former Lebanese prime minister Rafik Hariri. High-ranking Syrian officials have faced allegations of culpability in Hariri's murder; Syria denies any involvement.
No candidate for the restored post has yet been identified, according to the source, who also confirmed that the United States has been scouting locations in Damascus for a new embassy. Asked what was wrong with the old embassy, the source replied: "It's old."
State Department officials visited Damascus in recent weeks for this purpose. Those visits were separate from the more publicized missions by other U.S. officials, including former Sen. George Mitchell, the Obama administration's point man on the Arab-Israeli conflict; and Feltman, who has twice visited Syria this year in tandem with National Security Council official Dan Shapiro.
Syrian officials welcomed the move as "a step in the right direction" and one that "shows sincerity from the Obama administration" in its professed desire to revive U.S.-Syrian relations.
State Department spokesman Ian Kelly said Wednesday the move reflects the administration's recognition of the "important role" Syria can play in bringing "peace and stability" to the region.
"We continue to have concerns about Syria's role in this region, and we think one way to address those concerns is to have an ambassador in Damascus," Kelly said Wednesday, confirming the decision.
Syria remains a key to establishing Arab peace with Israel, which captured the strategic Golan Heights in the 1967 war. Syria held indirect talks with Israel last year, mediated by Turkey. But the discussions were halted during the Israeli offensive on Gaza in December and January. Syria has since said it was ready to resume indirect talks with Israel's government as long as they focus on a complete Israeli withdrawal from the Golan.
Privately, sources told FOX News the Obama administration is not asking the regime of Syrian President Bashar al-Assad to evict Khaled Meshal, the Hamas leader who resides in Damascus, or the group itself, which maintains offices there -- a marked change from the Bush administration.
Rather, the Obama administration is said to be asking Syria to use "its good offices" to advance prospects for a unity government pact between Hamas, which controls the Gaza Strip, and Fatah, the rival Palestinian group that controls the West Bank.
"(The Obama administration is) trying to bring Hamas into the process in a sense," said a foreign diplomat, who asked not to be named because he was not authorized to discuss the sensitive negotiations publicly.
Syrian officials point to a series of recent statements by Meshal that they believe represent a significant evolution in the Hamas leader's negotiating posture. The statements include interviews Meshal has given to The New York Times and Time magazine, as well as statements he made after his meeting this month with former President Jimmy Carter. In his own public comments, Carter said Meshal told him that Hamas would accept a peace agreement if Palestinians approve it in a referendum.
Having visited more than a dozen Arab countries and met repeatedly with Israeli leaders, Mitchell is now said by multiple sources to be working on a package of confidence-building measures he will soon recommend the Arab states and the Israelis take to advance the peace process.
Sources said the recommendations will include steps that Arab leaders should take to begin normalizing relations with Israel, such as establishing commercial offices in Israeli cities and having their pictures taken alongside Israeli Prime Minister Benjamin Netanyahu. On the Israeli side, the measures will include some concessions on settlement activity, but these have not been identified.
A stumbling block to Mitchell's efforts came this week when Netanyahu refused to meet with Mitchell at a planned session in Paris. State Department spokesman Ian Kelly, briefing reporters in Washington Tuesday, said the cancellation of the meeting was "jointly decided" because Israeli Defense Minister Ehud Barak was set to come to Washington.
"They saw it as a matter of steps," Kelly said. "First, meet with Defense Minister Barak and then with the prime minister."
But sources told FOX News Netanyahu "is not happy with (the Obama administration's) position on settlements" and "did not think he would get anywhere" by meeting with Mitchell at the time.
A spokesman for Mitchell did not return repeated calls for comment. At a press briefing on June 16 -- his first since January, when he accepted President Obama's request that he serve as the administration's special envoy for Middle East peace -- Mitchell told reporters: "In 2003, Israel agreed to the Roadmap. It calls for a stop to settlements. We believe there should be a stop to settlements."
The move to restore an ambassador to Syria comes as Syria's close ally Iran is in tumult over the June 12 presidential election which kept President Mahmoud Ahmadinejad in power. His challenger, Mir Hossein Mousavi, says the vote was rigged and his supporters have mounted massive demonstrations. At least 17 people have been killed by paramilitary forces.
Washington has criticized Syria and Iran for supporting Islamic terrorist groups such as the Palestinian Hamas in Gaza and Lebanon's Hezbollah. The U.S. also has accused Syria of not doing enough to stop the infiltration of militants to fight U.S. and allied forces in neighboring Iraq.
The Associated Press contributed to this report.