Tek Lado: A Magazine For Geeks -- And Latinos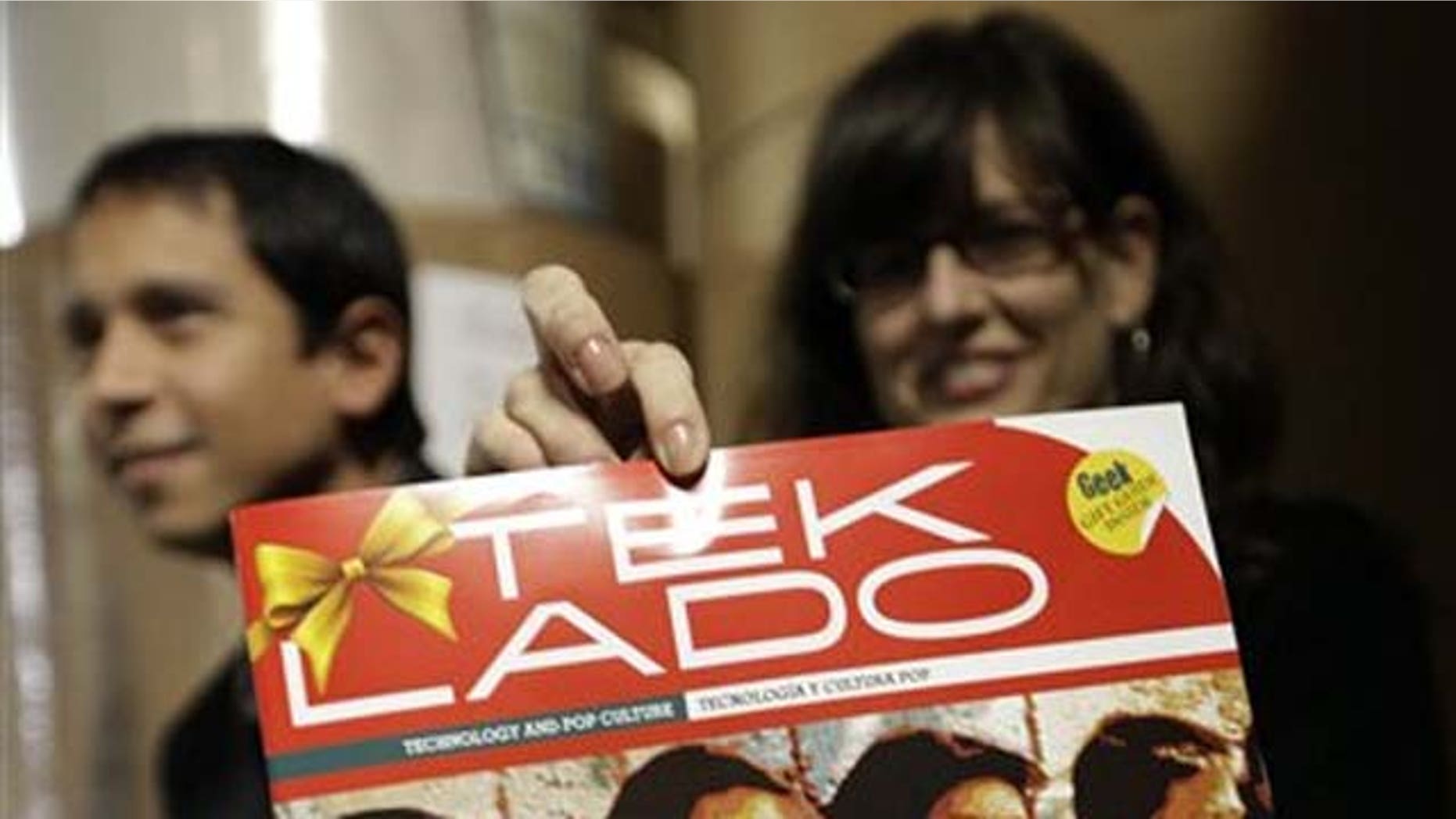 Are you geeky? Are you Latino? Then a Philadelphia magazine might be exactly what you're looking for.
Tek Lado is a magazine that praises all things nerdy in English, Spanish and even Spanglish.
The free 32-page technology and pop culture magazine has a print run of 20,000, with bilingual articles and a Spanglish column. Its name translates to "tech side" or as a play on the Spanish word for keyboard, teclado.
Mel Gomez, director of niche publishing for Bartash Media Group, self-described geek and Tek Lado publisher, said it fills a void in the marketplace of publications for tech-savvy Latinos.
"I love technology, gadgets, smart phones, gaming, graphic novels. I watch Star Trek," he said with a laugh. "Typical Latino publications are often tabloids, either general publications or some sort of [gossip] rag. Nothing that speaks to geeks and their different subcultures we have in the U.S."
Gomez, Tek Lado editor-in-chief Liz Spikol, two staff photographers and eight bilingual freelance writers are based for now at Bartash's offices in southwest Philadelphia. Tek Lado is the first venture in magazine publishing for Bartash, a 58-year-old printer of catalogs, magazines, newspapers and niche publications for hundreds of companies from Maine to Alabama.
A foray into print media might appear counterintuitive at a time when magazines and newspapers are increasingly endangered species, but for Gomez it was a natural fit. He hopes to increase Tek Lado's frequency from bimonthly to monthly by April.
"Even though Latinos do use technology, they use print media also," he said. "They may be old fashioned in that way but they often prefer printed [publications]."
The magazine's second issue arrived Monday at more than 400 restaurants, coffee shops, offices and in its 50 citywide vending boxes.
Its publisher's note and articles are printed side-by-side in English and Spanish. Subjects include a first-person report from Chiapas, Mexíco, and primer on the Zapatistas revolutionary group there; a library grappling with balancing technology and books in a Latino neighborhood; a humor piece on the writer's addiction to playing the Rock Band video game; and the history of the word "geek."
There's also a local focus on Philadelphia tech businesses and pop culture events, and scannable QR codes throughout the magazine allow readers with smart phones access to additional online content and websites of Tek Lado advertisers.
Gomez sees Tek Lado expanding to other cities, and said talks already are in the works with publishers in the New York City area to possibly start their own Tek Lado publications.
"There's a misconception about the digital divide. ... It's much less than people think," he said. "Latinos use social media, they use smart phones, they blog, they use social networking sites, they Skype."
Some recent research appears to bear that out.
A recent study by the Pew Hispanic Center found the gap in Internet use between Latinos and whites has tightened significantly in recent years.
The survey reported Internet use among Latino adults rose from 54 percent to 64 percent from 2006 to 2008. During that same period, rates for whites rose from 72 to 76 percent, and the rates for blacks rose from 61 to 63 percent.
Other surveys have reported more dramatic findings, with one even concluding that Latinos are using mobile technology and social networking at a rate higher than their white counterparts.
Pew Hispanic Center senior researcher Gretchen Livingston said her research hasn't found that substantial a shift. But she said the gap between Internet haves and have-nots has narrowed at a "phenomenal" pace, especially among U.S.-born Latinos, even though they still lag far behind whites when it comes to home computer ownership.
"Our data cannot get at why that's the case," she said. "It may be that mobile technology is playing a role."
The Associated Press contributed to this report.
Follow us on twitter.com/foxnewslatino
Like us at facebook.com/foxnewslatino