Marc Jacobs Presents Last Collection For Louis Vuitton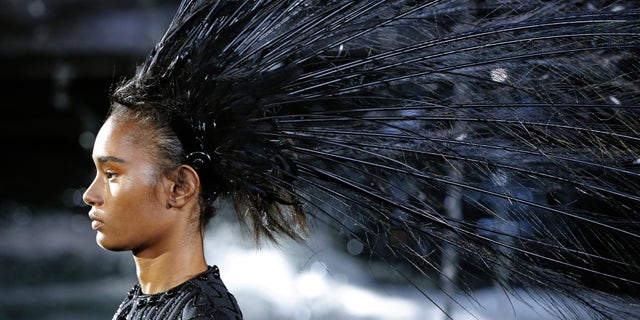 What was likely Marc Jacob's last ready-to-wear collection for Louis Vuitton looked like a show in mourning Wednesday — black, black and more black.
A dark fountain and a nightmarish carousel with inky horses like surreal dark knights were met with a universe of clothes in all black. Maids cleaned away dust from the steps of the disturbing set, which traced through Jacobs' influential 16-year reign at Vuitton.
Shortly after the show in Paris' Louvre Museum ended, the visual metaphor was explained: French luxury conglomerate LVMH Moet Hennessy Louis Vuitton announced that Jacobs was stepping down as creative director of its flagship brand.
Jacobs, who is also the director of an eponymous brand, is one of the biggest names in the fashion industry. Under his tenure, Louis Vuitton became the most lucrative fashion house in the world, in part thanks to his creation of a ready-to-wear line.
LVMH, which owns the Louis Vuitton brand and an array of other luxury names purveying everything from jewelry to champagne, would not say who would replace Jacobs or what his next move would be.
At the show Wednesday, models filed by in jet-black warrior-like feathered headdresses, evoking a self-defense aura.
The 41-piece display — which used embroidered black tulle stockings, Eisenhower jackets embellished cabaret-style with large feathered shoulders, dark embroideries, smoking jackets and some 1940s baggy blue jeans — was a dark affair.
The glimmering catwalk landscape was towered over by a huge clock whose arms, instead of going forward, went back in time. It was as if the designer was trying to look to the past — or even get some time back.
"We went back and used all the different bits of the sets of the past and made them black," Jacobs explained backstage without elaborating on his future plans.
The clothes, too, went back in time. Floor-length, thick Edwardian dresses and large proportions in the sleeves fused with black decorative corset details, evoking fashions of the 1900s and contrasting with the more revealing "showgirl" looks.
In the program notes, Jacobs enclosed an emotional goodbye to LVMH's CEO: "For... Bernard Arnault. All my love, always."
But it was the standing ovation from Anna Wintour that said the most. Such rare, visible acclaim from the powerful U.S. Vogue editor — to whom he partly dedicated the show — capped Jacobs' tenure at Louis Vuitton.
Glenda Bailey, the influential U.S. editor of Harper's Bazaar, spoke of her emotion at seeing the show.
"It's the end of an era. Watching the show was like seeing your life flash before your eyes, because there were so many memorable moments referenced," she told The Associated Press, mentioning "Louis Vuitton" prints, corsetry shapes, high-collared sweeping silhouettes and large embroidered paillettes.
"Marc brought such incredible energy to Louis Vuitton and should really be celebrated for bringing that house to life, and creating the vision that someone else will now take forward," she added.
Bailey would not speculate on rumors that Jacobs would be replaced by designer Nicolas Ghesquiere, who left Balenciaga last November. But she said the new designer will have unique opportunities thanks to the financial of the LVMH fashion house.
Based on reporting by the Associated Press.
Follow us on twitter.com/foxnewslatino
Like us at facebook.com/foxnewslatino