'Inside-out effect jeans' are just that, and cost far more than just flipping your pants inside-out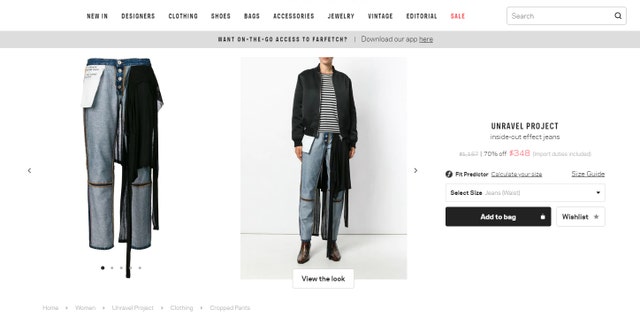 NEWYou can now listen to Fox News articles!
In recent months, the fashion world has brought us thong jeans and upside-down jean shorts.
And the season's wave of denim weirdness continues.
Experimental, Parisian streetwear brand Ben Taverniti Unravel Project is now selling high-end slacks billed as "inside-out effect jeans."
True to their description, the jeans pretty much resemble ordinary skinnies peeled off at the end of a sweaty day.
LOOK: EXTREME CUT-OUT JEANS LEAVE ALMOST NOTHING COVERED
One version of the not-so-reversible denim comes with strange lengths of black silk attached at the waistband — almost like stockings adhered by static cling.
The right, front pocket reads, "TO CREATE SOMETHING NEW YOU MUST FIRST DESTROY."
'BUTTLESS JEANS' MOCKED AFTER ONLINE DEBUT
The collateral damage includes your wallet: The look's original asking price was a whopping $1,100. (Evidently, there were few takers for the trainwreck trousers, as retailer Farfetch recently slashed the price by over $700, to a still-ridiculous $348.)
A more subdued style, sans hanging silks, is available for a cool $551.
And if you're in the market for inside-out, button-fly booty shorts (who isn't?), these babies can be yours for 445 bucks.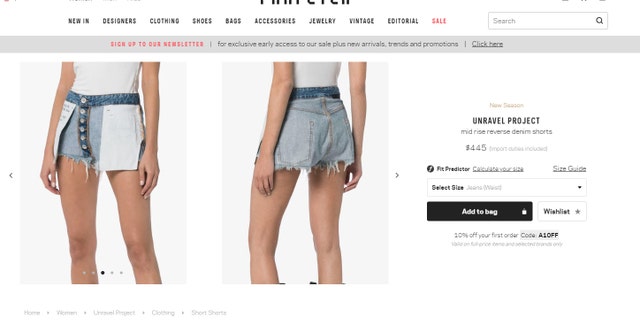 FOLLOW US ON FACEBOOK FOR MORE FOX LIFESTYLE NEWS
The jean-ius fashion label, beloved by Kendall Jenner and miscellaneous Hadids, has been producing unusual denim creations since 2015.
Case in point: this "belt" made from a denim waistband that actually has loopholes for a second belt, if you're feeling so bold. The item is currently sold out on Net-A-Porter.