Ice Cream Truck Full Of Books Sent By U.S. Collegiates To El Salvador; Sprinkles Not Included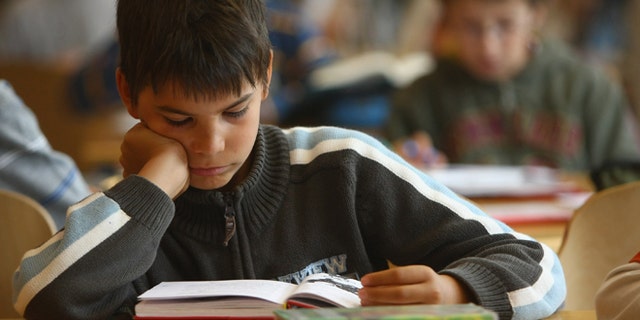 NEWYou can now listen to Fox News articles!
Yesenia Portillo and Domonique Parkes know that an early love of reading can benefit students throughout their entire life.
That's why these two University of Maryland students want to put the rubber on the road – or dirt path, depending on where they are – and help get young students in El Salvador to read more.
The duo founded the non-profit group Libros Sobre Ruedas (Books on Wheels) with the goal of improving educational opportunities for children in El Salvador. The idea takes the classic bookmobile idea that any grade school student in the U.S. probably remembers and transports it down to the tiny Central American nation.
"I always knew I wanted to give back to El Salvador someday," Portillo, whose family is Salvadoran, told The Diamondback, the university's independent student newspaper.
Portillo added that seeing her family's own struggles with education was a major source of inspiration for this project. Her own father dropped out of school in second grade and still struggles to this day with reading and writing.
"It's mainly because they weren't given the resources to continue their education," Portillo added.
Portillo and Parkes were able to raise enough money to buy an old ice cream truck that will function as their Salvadoran bookmobile and will be stacked with donated books. The mobile book collection will be available to students attending Centro Escolar Caserio Los Negros Anton el Cero, an elementary school located in Moncagua, in San Miguel department, at which one of Portillo's relatives is the principal.
"Hopefully, after we get this started, we can get donations from different bookstores," said Parkes, who added she wants the group to be able to send multiple copies of specific books to the mobile library.
El Salvador has a primary school enrollment rates nearly the same as those in the United States, but in secondary school they are about 30 percent lower, according to 2011 World Bank data.
Adding to this, El Salvador's adult literacy rate is around 84 percent, compared to most countries in the world, which stand in the 90th percentile according to United Nation's statistics.
This disparity in reading and writing keeps the members of Libros Sobre Ruedas dedicated to their converted ice cream; Portillo added that she wants to push the bookmobile movement into other parts of the Salvadoran countryside.
"Right now we're just going to be concentrating on one town, but eventually we want to expand to other low-income towns," Portillo said.
The Libros Sobre Ruedas pair is also hoping to keep the project going a long time.
"This is a lifelong thing for me and Yesenia," Parkes said.
Follow us on twitter.com/foxnewslatino
Like us at facebook.com/foxnewslatino