Anna Wintour reveals her thoughts on Meghan Markle's wedding look
Fashion's long-reigning queen has broken her silence on the Duchess of Sussex's most famous look to date — and she approves.
On Jan. 22, Vogue's editor-in-chief Anna Wintour shared her true thoughts on the now iconic Givenchy gown that Meghan Markle sported for her May 2018 wedding ceremony at St. George's Chapel in Windsor.
"I think she's amazing," Wintour gushed of Duchess Meghan in the magazine's new web series "Go Ask Anna."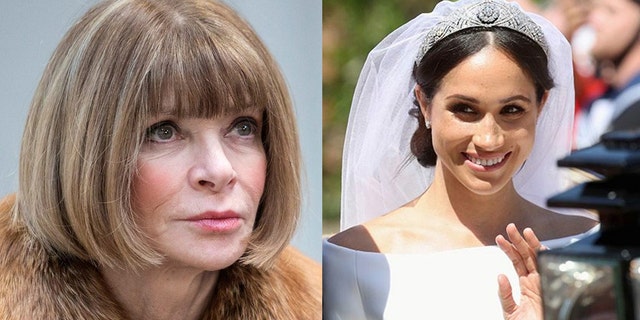 CHANEL DEBUTS 'WEDDING DRESS'-INSPIRED SWIMSUIT DURING PARIS FASHION WEEK
"The royal wedding had the whole world watching. I think that her choice [a couture Claire Waight Keller creation] was brilliant. It was sophisticated, it was chic, it was grown up. It was an English designer, albeit one that was working for a French house, which in a way was a message to world: 'Yes, I'm from somewhere else, but I belong,'" the media mogul said.
Windsor went on to praise Markle's decision to walk (partially) down the aisle alone a bold display of her status as an "independent woman," further describing the "young duchesses" – Markle and her equally famous sister-in-law, Kate Middleton – as the future of the monarchy.
"I think the two duchesses, the young duchesses that they have in Britain – the Duchess of Cambridge and the Duchess of Sussex – are going to keep the royal family afloat quite frankly," Wintour dished.
FOLLOW US ON FACEBOOK FOR MORE FOX LIFESTYLE NEWS
Better yet, the 69-year-old Vogue honcho appeared to be entertained by the recent rumors that palace staffers were initially shaken by Markle's reported morning routine.
"I read somewhere that there were members of the royal household who were confused and upset that she woke up so early, at 5 a.m. She's a normal California girl who gets up early and does yoga and meditates. And also sent a lot of text messages," Wintour mused in the three-minute clip. "I mean, what did they expect — that she was going to send message via pigeon?"