5 Children's Books That Teach About Latino Culture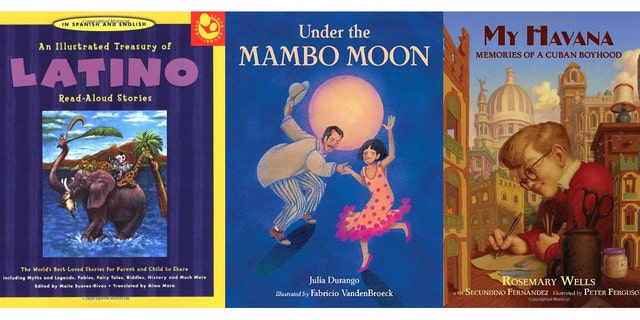 In his recent article, How Global Language Learning Gives Students the Edge, Dan Fost says that in order for our country to regain a competitive edge in our global economy, our education system needs to provide "innovative tools and programs that promote cross-cultural understanding."
Helping our children to think globally improves their ability to look at a problem from multiple points of view – a definite advantage and valuable skill for academic success. One way to promote a global vision in our children is through reading. Below are five multicultural books that teach children about the Latin culture.
At the top of the list is "A Kid's Guide to Latino History" by Valerie Petrillo. This fun and educational book is an excellent resource for teachers and parents who are teaching about the history of Latinos in the Americas. Students will get lessons in geography and cultural awareness. Each chapter offers a history of a particular country or people, and also includes directions for creating a craft or recipe from that country. For example, in chapter four, Petrillo highlights Mexican Americans and offers instructions for playing various games such as Lotería, as well as how to make capirotada, cascarones, pan de muerto, and even farolitos. Some of the other chapters focus on Puerto Ricans, Cubans, Dominicans, and Central and South Americans.
It is best suited for children ages 7 and up.
"An Illustrated Treasury of Latino Read-Aloud Stories" is a beautiful collection of 28 stories that truly reflect our Latino history, culture, and traditions. Edited by Maite Suarez-Rivas, this treasury is divided into five sections: Myths & Legends of Pre-Columbian Cultures, Fables & Riddles, Fairy Tales & Stories, History, and Spanish-American Literature of More Recent Times. Each section contains a diversity of material from Latin America that is rich in imagination and steeped in cultural folklore.
Music-loving families will enjoy the new book, "Under the Mambo Moon" by Julia Durango. Inside the pages of this unique story, readers can learn about the various types of Latin American music - from Colombia's cumbia to the Dominican merengue to the candombé of Uruguay. Interspersed throughout the book, are brief poems told by each customer who enters the store to buy the music of their homeland. João is a fan of bossa nova, while Professor Soto prefers Andean tunes that he has heard played on a zampoña player. Mr. and Mrs. Mayer are tango dancers, but young Gabriel loves the vallenatos of Colombia.
At the back of the book, the author includes a brief history of how amazingly diverse Latin American music and dance are. Durango talks about the influence of indigenous, European, and African cultures on the rhythms – and even the musical instruments – used to create the various styles of music. She also includes a short description of each music style mentioned in the story.
"Shake It, Morena! and Other Folklore from Puerto Rico" by Carmen T. Bernier-Grand shies away from the ubiquitous rhymes found throughout Central and South America. Instead, Bernier-Grand focuses on the unique folklore found in Puerto Rico. Included within the pages of this book are two dozen songs, riddles, games, and much more. Illustrator Lulu Delacre goes beyond the text to develop a visual story line that complements and unifies the passages. Her illustrations are beautiful with a softness that is soothing to children and filled with details. And as an added bonus, children will enjoy searching for the 27 lizards hidden in the illustrations.
"My Havana:Memories of a Cuban Boyhood" by Rosemary Wells with Secundino Fernandez follows the childhood story of Fernandez, a Cuban émigré and architect, forced to leave his beloved island home twice. The book is divided into four sections, which chronicle his early years on the island of Cuba, a year in Madrid, followed by another three years in Havana, and ultimately, his move to New York. The text is rich with imagery and details reflecting the unique properties of each city and time period. Along the way, children are briefly introduced to the infamous historical/political figures of Spain's Generalissimo Francisco Franco, Germany's Hitler, and Cuba's Fulgencio Batista, Fidel Castro, and Ché Guevera. This seems like quite a heavy load for young readers, but Wells presents the characters in bits and pieces as they were seen and understood by a young boy, making them easier for young readers to understand.
Mónica Olivera is the founder and publisher of MommyMaestra.com, a site for Latino families that homeschool, as well as families with children in a traditional school setting who want to take a more active role in their children's education. She is the 2011 winner of the "Best Latina Education Blogger" award by LATISM (Latinos in Social Media).
Follow us on twitter.com/foxnewslatino
Like us at facebook.com/foxnewslatino