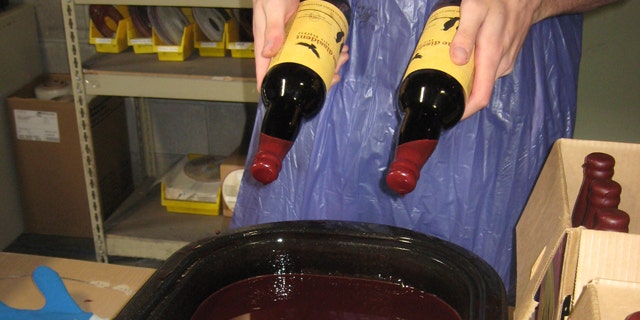 Just like wine, beer is brewed in a nearly infinite range of flavors. Some are designed to be easy-drinking and as friendly and inviting as the bikini-clad vixens in the commercials that sell them. Others are made to blow minds and taste buds with hops as bitter as Wisconsin politics. And then there are the weird ones. The ones that feature flavors as strange and oddly endearing as McLovin – like sour ales.
Sour ale is a catch-all term for a fairly long list of beer styles. Most popular in Belgium, these include lambics, gueuzes and Flemish sour ales, just to name a few. Made by fermenting the beers with odd strains of yeast, and even lactic acid, these beers typically taste radically different than any beer most in this country have tried before. Sour and tangy, with aggressive fruit, funk and vinegar flavors that use sweetness and a malty spine to hang it all together and remind drinkers that it really is beer in that glass, people tend to love or hate these. There aren't many on the fence about this style of brew.
Despite the heavy flavors, there's something incredibly refreshing about them. That lemonade-like tang is easy to associate with hot weather, and these beers have a lip-smacking quality that cools and pairs surprisingly well with hot dogs, sausage and other traditional summer and fall eats. In other words, these funky draughts are about as tailgate friendly as it gets, especially since many of them come in massive bottles tailor-made for sharing. They can be tough to find, but they're well worth seeking out. Here are a few bottles to go out of your way for.
New Belgium La Folie – A sour brown ale, La Folie ages in French oak barrels for up to three years before it hits the bottle. Designed to mimic the spontaneous fermentation used to brew many traditional sour ales – meaning instead of introducing particular yeast strains the beer is exposed to the air to allow wild yeast and bacteria to do the work – La Folie is a deep brown with ruby highlights in the glass. There's heavy-duty sour cherry here, with some vinegary tang and a little bit of vanilla and bitter tannins from the oak. With only light carbonation, it's easy to find some satisfying bready chew to it, but it has a funky overlay that could put off some folks. Of course, so does Fergie, and people still seem to like her.
The Dissident – Brewed in hipster heaven, aka: Portland, The Dissident is a Flanders oud bruin and it's easy to mark it as a sour ale from a few feet away. It gives off a deep vinegary odor, but bear with it – the flavor puts the vinegar in the back seat and brings up lemon and cherry, with a caramelized sugar aftertaste keeping things in check while heavier carbonation than is typical for sour ales breaks up some of the heavy funk. It's an impressively complex beer, and while it doesn't pair up with food as well of some of its compatriots, its 10.5 percent alcohol content means it's a great choice for when your team is trailing at halftime and their performance soured your appetite.
The Lost Abbey Cuvee De Tomme – While some beers, like La Folie, mimic spontaneous fermentation, a new breed of brewers are going right after it. Cuvee De Tomme is an American Wild Ale, using the natural yeasts and bacteria in the air to create a bottle that varies dramatically year to year, depending on the mix of organisms driving the fermentation. The bottle we got our hands on had a powerful yeasty funk, with sour cherries, tart apple and an almost balsamic vinegar-like background. With little carbonation to break it up, it's a chewy beer and could be a bit too cloying, coating the mouth in a weird way that could be off putting to some. But with the brew varying so much from bottle to bottle it can be something of a crap shoot, which when you think about it, is half the fun.
Rodenbach Grand Cru – About as classic as a sour ale can get, this Flander's red ale is nigh-perfectly balanced between sweet and sour. It's a bit more processed than some of the others on the list, with consistent flavors from year to year, but that polish makes the beer incredibly sessionable. This is a beer for those from the "Thank you sir, may I have another" school of thought. There's a lot of sour fruit up front, but more thick bready texture and flavor than others from the sour ale family. That same balance makes it all sorts of refreshing and cooling. Plus, the women on our tasting panel thought it rocked. So whoever shows up with this stuff gets to play the hero by providing something with a little more flavor than the Buds and Millers that typically show up in coolers at summer BBQs. Brownie points are never a bad thing to have.