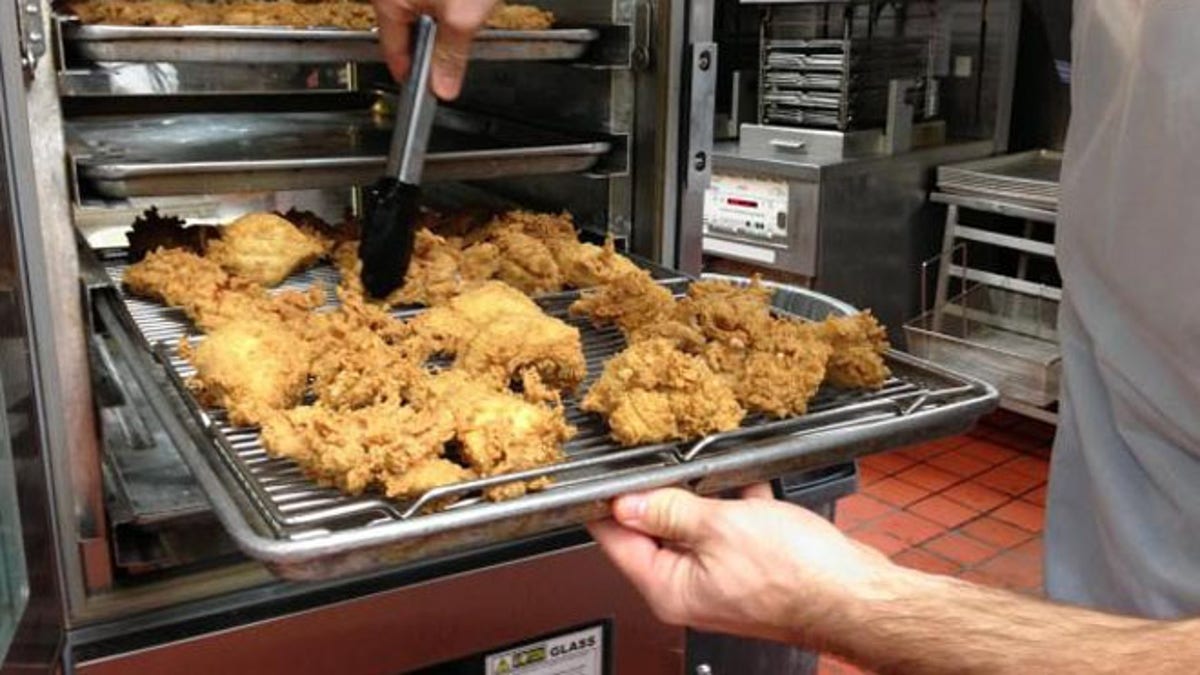 NEW YORK – KFC is tossing out the chicken bones and the quaint image of founder Col. Harland Sanders as it gets ready to test a slightly more upmarket restaurant.
The fried chicken chain says it's opening a location called "KFC eleven" early next month near its headquarters in Louisville, Ky., that will serve flatbreads with toppings, rice bowls, salads and only boneless pieces of its Original Recipe chicken.
The restaurant's exterior won't feature Sanders, whose bespectacled, white-bearded likeness has long been front and center at traditional KFC locations. But the name of the test restaurant is a reference to the 11 herbs and spices Sanders used in the Original Recipe.
KFC eleven's opening is a reflection of the challenges facing traditional fast-food chains such as McDonald's, Burger King and Wendy's. The problem is that people in their 20s and 30s are increasingly heading to chains such as Chipotle Mexican Grill and Panera Bread, where they feel they get better food for slightly higher prices.
In a note to investors about KFC's test, Janney analyst Mark Kalinowski said that such "fast-casual" chains remain the fastest-growing segment in the restaurant industry. He noted that other chains, included Applebee's and Red Lobster, have recently started testing similar formats as well.
John Cywinski, president of KFC, said in an interview that people often equate KFC with "buckets of fried chicken on the bone," primarily as a dinner or weekend option. He said the company hoped to use the new test location to learn how it can update its offerings and draw in a broader customer base, particularly women.
KFC eleven will serve side dishes such as waffle fries, garlic mashed potatoes and coleslaw along with Original Recipe chicken. But the chicken will be the boneless variety the chain rolled out in April as an easier-to-eat alternative to its traditional breast, thigh and drumstick pieces.
At the time, the chain said the rollout was intended to address people in their 20s and 30s who grew up on chicken nuggets and tenders, and generally tend to prefer chicken without bones even as adults.
Although the decision to serve only boneless chicken at KFC eleven was driven by primarily by that trend, Cywinski said another factor was logistics: Cooking boneless and on-the-bone chicken in the new space would be too complicated, given all the other menu items.
As KFC continues testing the restaurant format with additional locations and redesigns, Cywinski said it will likely try offering chicken with bones as well at some point.
The first KFC eleven that opens Aug. 5 will be a stand-alone restaurant, with a second location opening in a strip mall in coming months.
Within the next year, Cywinski said the chain plans to open another branch of the restaurant.
KFC is owned by Yum Brands Inc., which also owns Taco Bell and Pizza Hut.
___
Follow Candice Choi at www.twitter.com/candicechoi