'X Factor' Finale Crowns Duo, Latino Contestant Carlito Olivero Finishes Third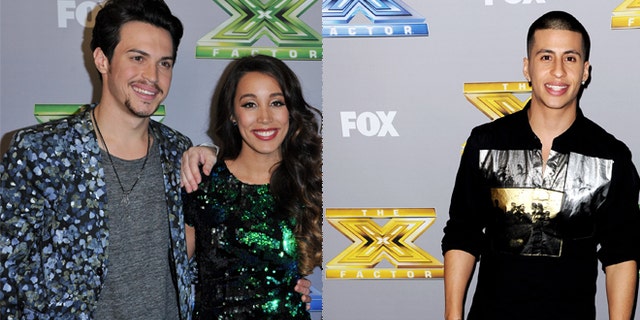 The finale of the third season of "X Factor" came down to three contestants and, in the end, two were left standing.
Alex and Sierra were crowned champions on Thursday night, winning a million-dollar recording contract with Sony music.
The star-eyed couple won over the hearts and minds of audiences, particularly on YouTube, and that translated to enough votes to beat out third place finisher, Latino heartthrob Carlito Olivero, and second-place runner-up, rocker Jeff Gutt.
Alex and Sierra were coached by "X Factor" creator Simon Cowell.
"We are speechless ... this is incredible," Alex said.
"Thank you so much for getting us here, and thanks for not making fun of my weird faces all of the time," Sierra said in her message to America.
Alex and Sierra ended the night with a teary and emotional rendition of "Say Something," by A Great Big World.
Though he didn't finish first, the 24-year-old Olivero brought a bilingual sound to a national television audience, performing songs like "Dreaming of You" by Selena, "Suavamente" by Elvis Crespo, "I Need to Know" by Marc Anthony, and "Maria Maria" by Santana.
"You don't understand – you just made my dream come true. I love y'all so much. Latinos forever," he said when he was voted in to the top 3.
Olivero, who works at a coffee shop in Los Angeles, was coached by Paulina Rubio throughout the competition.