With 'Casa de mi Padre' Genesis Rodriguez Carves Place in Hollywood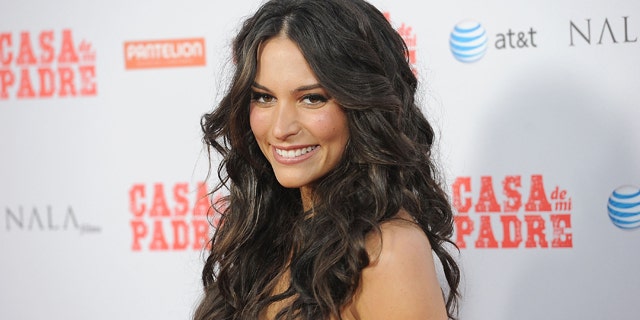 Miami born Genesis Rodríguez seems to be well on her way to becoming Hollywood's next leading lady.
Recently she starred in "Man on a Ledge" alongside Sam Worthington and this weekend she will be the romantic lead opposite Will Ferrell in "Casa de Mi Padre."
Her next two movies include "Last Stand," where Arnold Schwarzenegger returns to the big screen and "What to Expect When You're Expecting," with Jennifer Lopez.
Will Ferrell Awakens Latino Side in "Casa de mi Padre"
Stardom runs through her veins, it seems, since her father is the iconic Latin superstar José Luis Rodríguez "El Puma" who also has a role in "Casa de mi Padre" as a wedding singer during Genesis' on-screen wedding ceremony to Diego Luna.
"To have your father as part of the film is a memory I am never going to forget," Rodríguez told Fox News Latino. "I got to tell him the news that they wanted him in the movie."
El Puma took some time to give Rodríguez some sound advice about show biz.
San Diego Latino Film Festival Buzzing Flicks
"When I first got out here he told me to take off [some of] the pressure," Rodríguez recalled.
"No one is telling you to get a job so quickly, take it easy and enjoy it."
"Once I did, I felt different in the room," she added. "I felt at ease, I could just really enjoy presenting a character and not taking it personally."
Apparently, that advice worked and soon enough the young actress started booking major Hollywood roles including her first lead opposite Will Ferrell.
"I really didn't think I had a shot because I was an unknown and nobody casts an unknown," Rodríguez said. "I still can't believe I'm a part of this. This is huge."
Latinos Dazzle On Oscar Red Carpet
"Casa de mi Padre" was filmed completely in Spanish.
"This is the first time in history an American comedic icon makes the reverse crossover in our language in Spanish," Rodríguez highlighted. "It's groundbreaking."
Rodríguez began her acting career in Spanish television acting in telenovelas such as "Doña Bárbara" and "Prisionera." Nevertheless, her dream was always to break into Hollywood.
In the action movie "Last Stand" expect to see Rodríguez doing some stunts as FBI Agent Ellen Richards.
"The movie is exactly what you want in an Arnold film," said Rodríguez. "You get to see a different side to him, a more vulnerable and human side."
With all the recent success, Rodríguez points out that she has remained grounded.
"I can't say I've made it," said Rodríguez. "I like where I'm at right now, the place where I'm getting into film [and] the place I'm getting to."
It's all I've ever dreamed of," she added.
Naibe Reynoso is a freelance reporter in Los Angeles, California. You can reach her via Twitter: @NaibeReynoso
Follow us on twitter.com/foxnewslatino
Like us at facebook.com/foxnewslatino