When celebs auction their stuff for charity, they often keep most of the profits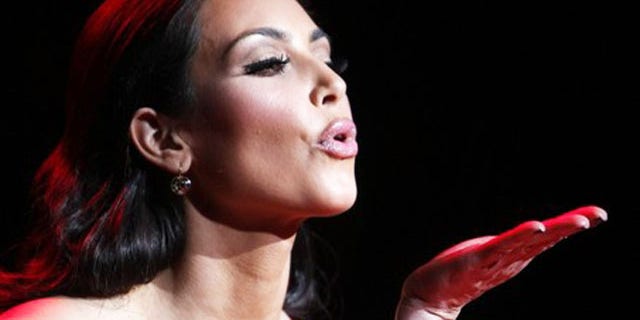 Stars give up their personal items in charity-related auctions all the time, and often they make a big deal in the press about their resulting charitable contributions. But how much of what these auctions rake in do the stars actually give to their causes?
"Many times the public assumes that all the proceeds go to charity and not the celebrity," Glenn Selig, President/CEO of Selig Multimedia, told FOX411's Pop Tarts column. "But that is often not the case. The public should never assume that 100 percent goes to charity."
Exhibit A: Kim Kardashian.
Kim, who has an estimated net worth of $35 million, has been auctioning off her personal goodies via eBay Giving Works for several years, even before she was a well-known reality star. Her auctions are promoted with the tagline "Charity Auction Supporting the Dream Foundation."
"My dad passed away from cancer so the funds go towards granting wishes for terminally ill adults," Kardashian told Pop Tarts regarding one of her auctions back in 2009.
Last week Kim and her famous family had several items up for grabs – a $960 Herve Leger dress, the robe she wore on "Dancing With the Stars" hovering at around $120, and Christian Louboutin Nude Patent Platform Pumps that had broken the $500 barrier. Some items were even listed as "new with tags," like a Rock Stella & Jamie Cropped Faux Fur Vest for $120, and a "new with defects" Balenciaga White Leather Peep-toe Platform Heels for around $16.
So how much of the proceeds from these sales will go to Kim's charity?
Ten percent -- the minimum required by eBay's "Giving Works" arm. The percentage is stated below each auction item, and Kardashian acknowledged the 10 percent figure while promoting the event on her blog.
Kardashian has given more on some occasions. She put herself up for auction last year – offering the opportunity to attend her Las Vegas birthday bash, in which the "winner and guest will get to skip the line and be escorted in to the VIP room where they will get 5 minutes to wish Kim a happy birthday, take photos, and have up to 2 items signed." The starting bid was $5,000 and it was listed that "25 percent of the sale price will benefit the Dream Foundation."
A source close to the Kardashian family insisted that Kim and her sisters are and always have been very charitable in many areas, and that the majority of the items they put up for auctions aren't things they were given, but things they purchased personally.
"They strongly believe that every little bit counts and there have been many instances where they have privately donated the whole sum of an earning to a charity, and they would like to continue to do some of these things privately," the insider said.
EBay did not respond to a request for comment, and Kardashian's rep declined to comment, but a rep for the Dream Foundation said Kim's contributions go above and beyond.
"Kim has contributed hundreds of thousands of dollars to Dream Foundation, and more importantly, has always made herself available on a personal level to hold the hand of a dream recipient battling terminal illness," the rep said. "Regarding the online auctions, 10 percent is significant when considering the number of dreams that have been fulfilled as a result, and we are grateful for Kim's loyal support."
But the disclosed 10 percent auction donations have garnered some negative reaction from fans.
"very nice love the shoes you should give 100% to the charity.I do ALL THE TIME it makes me feel so good," one reader commented on Kim's blog, while another wrote, "i saw 10% and i was like are you kidding me?!? it's a joke. i sell MY stuff on ebay and give 100% to charity and i'm a struggling college student, not a millionaire. come on kim."
Kardashian is not the only celeb to give in the 10 percent range. In 2009, Paula Abdul cleared out her closet in an online auction and gave 10 percent of the proceeds to the American Humane Association's Pets and Women's Shelters (PAWS) program. Khloe Kardashian and husband Lamar Odom also frequently do eBay auctions that benefit the NBA star's foundation for underprivileged youth, Cathy's Kids, giving 15 percent to the cause.
On the other end of the spectrum, however, are several stars who give 100 percent of auction proceeds to charity. Last year Sienna Miller auctioned off items through eBay from her boho chic wardrobe – with 100 percent of the proceeds benefitting International Medical Corps, which provides emergency relief and health care services in over 65 countries.
In 2010, Miley Cyrus opened up her closet of clothes and accessories to the public via eBay, donating all the proceeds to Get Your Good On, a social network that brings together children and youth to support each other in the mission to do "good" in their communities.
In 2009, several items were auctioned off from the Collection of Barbra Streisand via Julien's Auctions, in which all proceeds went to the Streisand Foundation, founded more than two decades ago by Streisand to aid humanitarian causes worldwide. Rocker Steven Tyler, too, cleared out his wardrobe, giving all proceeds to MusiCares and the Musicians Assistance Program (MAP).
Charlie Sheen is another 100 percenter, having auctioned off his 1966 red Mustang convertible via charitybuzz.com, with "the proceeds" benefitting C5LA, a youth leadership program. Right now, the same site is hosting an auction to meet Nick Cannon at this year's Sundance Film Festival, along with a two-night hotel stay, for an estimated value of $6,000. All of the proceeds will benefit The Children's Miracle Network, which supports hospitals helping local kids.
"Charitybuzz is a for-profit company that raises funds for nonprofits through upscale online charity auctions. There are no upfront fees for a nonprofit to work with charitybuzz, but we do retain 20 percent of the proceeds at the end of the auction to cover our full suite of services and website upkeep," Glenda Luft, spokeswoman for charitybuzz.com, explained. "The celebrities do not make any money from the auctions. They donate their time and access to raise funds for the causes they care about most."
Darren Julien, President/CEO of Julien's Auctions, says the amounts donated by the celebrities for their auction can range from a percentage to the entire proceeds. He says celebrities generally give their charities "20 percent of the sale proceeds, but in the case of celebrities like Barbra Streisand, Bette Midler, The Estate of Bob Hope and the Edge from U2, they have donated 100 percent of their proceeds to the charities that they support."
"It is always the celebrity's decision unless we promote it as 'all proceeds auction.' We never want to be deceptive," Julien explained. "As an auction house, we only state 'portion of the proceeds' when a celebrity will not contractually commit to us that 100 percent of the proceeds will go to charity. In the case of celebrities like Barbra Streisand, she will only do auctions like this for her charity, and we pay the charity directly after the auction. In these cases we say 'all proceeds' or 'proceeds' go to charity. It is always the celebrity's responsibility to pay the charity if a 'portion' of the proceeds goes to their charity."
So at the end of the day, the onus is on the buyers to decide whether they are comfortable with the term "portion of the proceeds," and whether they choose to bid on items that not only support charity, but benefit a celebrity's bank account even more.
"I would suggest consumers not assume that celebrities are being completely selfless," Selig said. "They should find out the financial arrangement for a cause marketing project and then decide whether to support it."
Steven Yamin, founder of the Conscience Entertainment Group, a Los Angeles-based philanthropic public relations firm, thinks that as long as intentions are clearly stated, every little bit counts.
"Often, the awareness creates more value than the proceeds from an auction," he said.
In the case of the Kardashian clan, the family has auctioned off hundreds of items over the years, including some very high-priced personal goods including Rob Kardashian's Range Rover and sister Kourtney's Maserati. So even with just 10 to 15 percent donations on a regular basis, they may have raised more money than those who donate all their profits. Kim Kardashian also has a 100 percent feedback rating; so, if anything, she doesn't let down her buyers.