U2's Bono talks religion, praises George W. Bush in new interview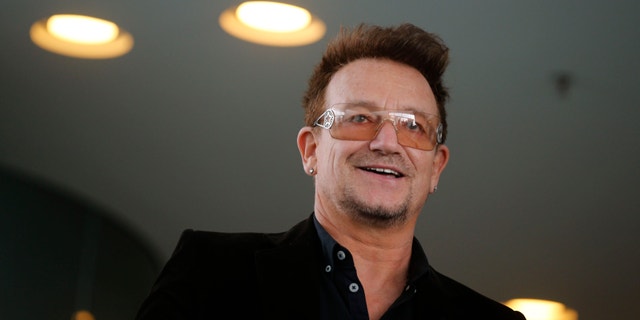 U2 rocker and activist Bono opened up about his religion, politics and his charity work in a recent interview with Focus on the Family President Jim Daly, during which he praised former President George W. Bush for his work fighting AIDS in Africa.
Bono talked about the issue from a religious point of view, comparing it to leprosy, during the interview, which will be broadcast on Tuesday.
"I am here to thank the American people for that," he said. "And I also want to thank the evangelical community for that, because it wouldn't have happened without their leadership, because they, like myself, pestered George Bush and the administration, who actually deserve praise for starting this out."
Bono also discussed his own religious beliefs more specifically, speaking openly about his faith.
"I believe that Jesus was, you know, the Son of God," Bono said, according to a transcript obtained by the Religion News Service. "I understand that for some people and we need to … if I could be so bold, need to be really, really respectful to people who find that ridiculous."
Daly said that he expects there may be some backlash over his decision to interview the rock icon, the Religious News Service reported.
"Does he use a bad word here and there? Yeah, probably. Does he have a Guinness every now and then? Yeah, probably," Daly said. "When you look at it before the throne of God, I think (God will) say, 'You saved so many children.'"
Still, Daly said he felt interviewing Bono was the right thing to do because the singer is clearly very focused on his faith.
"Bono clearly accepts Jesus as Lord. I wasn't prepared for his quickness in inserting Scripture into the dialogue," Daly said. "I celebrate with them that they have four children and have been married 30 years. Not everyone in the Christian community can say that."
Click here for more from the Religious News Service.