Tween nightmare! One Direction heartthrob Harry Styles a Cougar magnet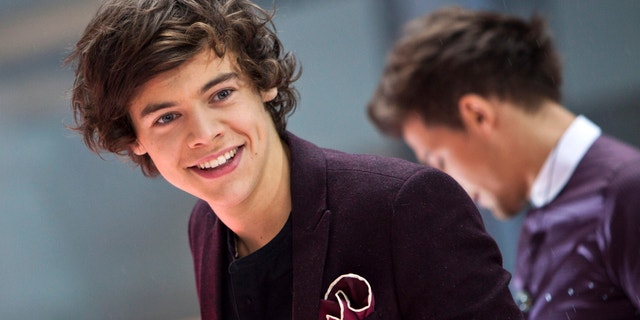 The boy band One Direction had an estimated 10,000 young fans wrapped around the blocks surrounding Rockefeller Center for their appearance on "The Today Show" on Tuesday morning. But many of the teen and pre-teen fans of the biggest boy band since 'N Sync may be in for a big disappointment, as one of the objects of their affection likes his gals of a little more mature vintage.
One Direction heartthrob Harry Styles, 18, is becoming known as something of a Cougar magnet, having been romantically linked to television host Caroline Flack, 33, and DJ Lucy Horobin, 32.
His cut-off age?
"Any woman older than my mum Anne – who is 43," Styles recently said.
[pullquote]
Claudia Opdenkelder, president of the niche dating website CougarLife.com, thinks that's just great.
"Harry is part of a growing movement who appreciate the wisdom and experience that come with dating a much older woman. Girls that are Harry's own age are likely too immature to deal with his level of success and stardom," she told FOX411's Pop Tarts column. "Unlike Justin Bieber, whose tumultuous relationship with Selena Gomez just went down in flames for the umpteenth time, Harry appreciates the maturity that comes with age."
And at least one of his girlfriends appreciates the potential windfall that comes from being linked to One Direction. After Caroline Flack's romantic rendezvous with Styles, she received a lucrative £500,000 (almost $800,000) offer to become the face of the Cougar Life brand. "Half a Million to be the face of Cougarlife.com?? YES! Finally I can afford my stannah stair lift sex swing!"
(According to a rep for the brand, she never officially took them up on the offer.)
The boy banders recently released their sophomore album "Take Me Home" this week, and the single "Little Things" is climbing the charts. With lyrics like "you never want to know how much you weigh, you still have to squeeze into your jeans, but you're perfect to me," it also seems to shed light on what the boys appreciate in a gal.
"Take Me Home," the band's second album this year, is expected to top 575,000 units in its first week, making it the third biggest debut of 2012.
"Everything that keeps happening is so surprising; and we're still just loving it," Styles told us. "When you work this hard and it pays off, it feels so good. We are very happy."
And so apparently might be Styles' Cougars.