Tom Selleck meets his match on the next episode of 'Blue Bloods'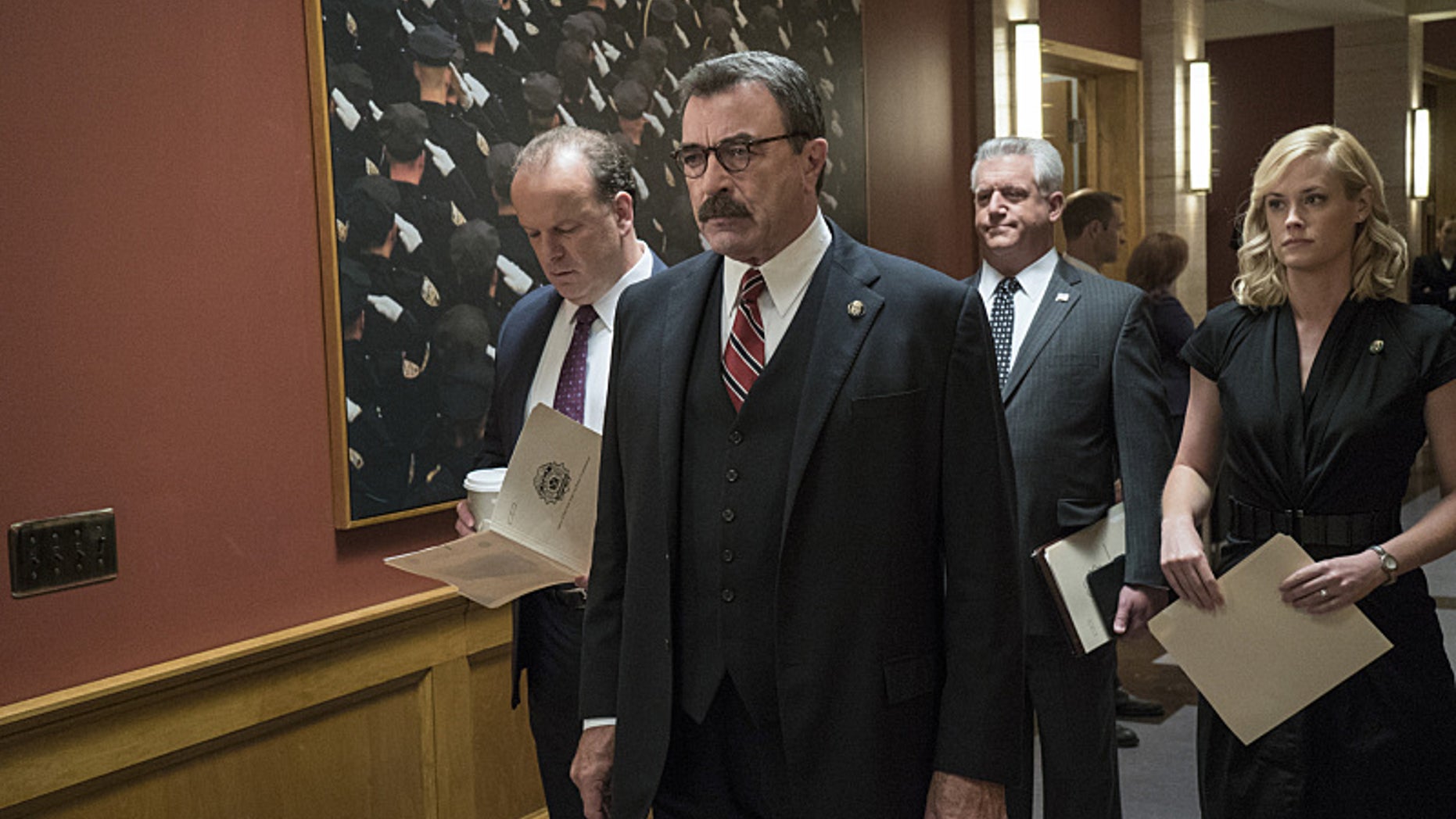 TV Recap:  Commissioners At War! Former "Wonder Years" Star Goes Head-To-Head With Tom Selleck's Frank On "Blue Bloods"
[Spoiler alert!  The following contains spoilers from "Blue Bloods"]
NYCPD Commissioner Frank Reagan (Tom Selleck) met his match on Friday's episode of "Blue Bloods," as former "Wonder Years" dad Dan Lauria guest-starred as his bitter rival: the New York City Fire Department Commissioner.
The drama starts when a group of cops and firemen taunt each other, then get into a brawl in the hospital where Frank's nurse daughter-in-law Linda (Amy Carlson) calls security to stop the melee.
Frank is outraged to learn that three cops and three firemen had attacked each other in an incident that hits the headlines.
Click here to subscribe to FOX411's YouTube channel
Later, Frank and Fire Commissioner Stan Rourke (Lauria) have lunch because the mayor wants them to bury the hatchet.
But when Frank tells Stan one of his guys threw the first punch, Stan disagrees and implies that another Reagan, Linda, was a biased witness.
He also sneers to Frank, "The mayor always sides with the PD. The guys with the guns run the show."
After Frank declines a photo op with Stan, the fire chief storms out.
Later, Frank goes to visit a wounded officer in the hospital, who explains that the fire department was told not to approach a drug den that had been set on fire but the men ignored that order.
In the crime scene chaos, the cop was shot in the leg.
While his aide Sid (Robert Clohessy) tells Frank the firemen interfered with police business, the commissioner replies that they were just following orders.
Frank suspects Stan of issuing the order, but in a one-on-one meeting with him, the fire chief denies the charge.
Frank reminds him "the people we serve get caught in the crossfire" if they don't get along.
The police commissioner says he's not going to arrest the firemen but Stan needs to make a public apology to his cops.
Stan says he'll merely make "a statement of regret."
Frank says Stan must defer to the police department at any crime scene but Stan disagrees and declares that the rivalry between the two departments is a tradition which makes the city great.
Also on the episode, Frank's assistant district attorney daughter Erin (Bridget Moynahan) opens up a 15-year-old cold case to try to convict a mobster named Grazioso of the murder of drug dealer Ronald Green.
Erin asks detective Jimmy, who worked the case years before, for his help and his former partner Marty Brock finds a gun on a rooftop and thinks it could be the murder weapon.
In fact, the gun can be tied to Grazioso, but Erin is shocked when a former police informant, Vincent (Dan Hedaya), leaves witness protection to provide his former boss with an alibi.
Vincent claims Grazioso didn't commit the murder because he was with the wise guy at the time, but suggests a crooked cop was the triggerman.
Later, Erin approaches her dad and tells him she has information a police officer committed a murder and is worried about pursuing the case.
Frank advises her to do what's right.
Later, Erin asks Jimmy if his ex-partner Brock might have killed Green because it was suspicious that he had found the gun so many years later.
Brock denies Erin's charge.
However, Brock then threatens Vincent with a gun at his apartment, thinking the former mobster has not only fingered him but knows the name of a witness to the Green shooting.
Just in time, cops break in and take Brock into custody, having obtained the proof they needed.
Erin thanks Vincent for going out on a limb for her.
Friday's "Blue Bloods" also shows Frank's policeman son Jamie (Will Estes) and his partner Eddie (Vanessa Ray) dealing with Jenny, a mentally ill young woman who first wanders into traffic and later knifes her father's arm.
The father confides in the two that the city's mental health system is broken and can't help his daughter.
Although the police partners confront a case worker who had dealt with Jenny, she tells them it's the cops who have a lot to learn about helping mentally ill people.
Jamie obtains a hospital bed for Jenny and tells her father the good news, but it's too late—tragically, he says she killed herself the night before.
Earlier, Jamie had expressed his distress about Jenny's situation at the Reagan family Sunday dinner—and Linda mentions she treats mental patients and must put them right back on the streets.
At episode's end, Jamie tells Frank he wanted to help the woman but he was hamstrung at every turn.
Jamie asks his dad to set up an advisory committee to prevent people like Jenny from falling through the cracks and Frank agrees. In fact, the commissioner declares that Jamie will be on the committee.
"Blue Bloods" airs Friday on CBS.