Tom Hiddleston goes country to play Hank Williams in 'I Saw The Light'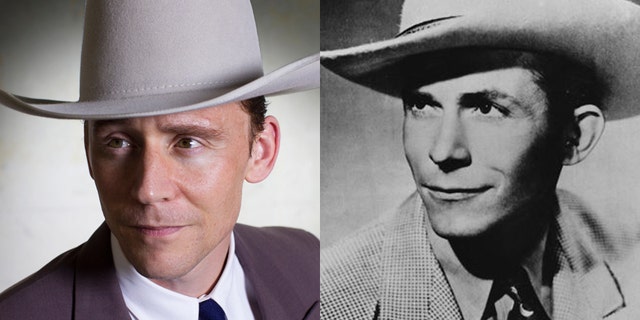 You can't get much more all-American than country legend Hank Williams, but when Kentucky-raised director Marc Abraham was looking for the perfect actor to play the singer/songwriter, he ended up casting a Brit: Tom Hiddleston.
As part of his research for the role, Hiddleston attended the Americana Music Awards in September 2014 in Nashville. Afterwards, he went to a honky-tonk across the street, with murals of Williams, Patsy Cline and other legends on the walls, and got lost in the crowd, until a man wearing a cowboy hat tapped him on the shoulder.
"He said, 'Hey man, I know who you are, I know what you're doing. You got it,'" Hiddleston tells FOX411. "It was so sweet. I felt like the town somehow knew it was happening. They knew that [music producer] Rodney [Crowell] was helping me and they would give me their support. It was cool."
"I Saw The Light," based on the book "Hank Williams: The Biography" by Colin Escott with George Merritt and William Macewen, opens with Williams as part of the Alabama music scene shortly after World War II, and follows his meteoric rise as he realizes his dream of hit records and a place on the Grand Ole Opry, as well as his turbulent personal life, and his untimely death at age 29.
Hiddleston spent a lot of time working on his transformation into Williams, learning how his hard life was balanced by his charisma and wit, running miles each day to drop enough weight to achieve Williams' lean physique, watching documentaries that had interviews with his former band mates, and, of course, studying vocals with Crowell.
Where Hiddleston is a natural baritone, Williams was a tenor, but that wasn't of the utmost importance. What the filmmakers were looking for was more of an interpretation of Williams' music than an impersonation.
"I suppose any musician who does a cover of another musician's song, that cover is a reinterpretation of a similar feeling. It's an examination of how that song sits inside of another person because the emotion is universal. The song might be about loss. It might be about flirtation. It might be about loneliness. So every time you sing, in order to transmit the power of the song, you have to commit yourself to the sincerity of those feelings. So when I sing 'Your Cheating Heart' or Love Sick Blues,' that's my commitment of my emotions through the filter of Hank Williams' songs."
In learning Williams' music, what struck Hiddleston about the Alabama native son's persona was how authentic he was in expressing his emotions -- and how exposed he allowed himself to be.
"He was such a man," Hiddleston says. "He sang about manly things and yet he was also brave enough to stand up and say, 'I'm so lonesome I could cry.' There's a huge vulnerability in the lyrics that maybe at the time was harder to express than it is today."
Hiddleston, best known to American audiences as the super villain Loki from the "Thor" and "The Avengers" movies, was joined in "I Saw The Light" by Elizabeth Olsen, who played Williams' wife Audrey.
The couple married young, and they had a tumultuous relationship. Audrey had aspirations of being a singer, and she expected Williams to give her a helping hand. Even though there was a lot of criticism about her singing, Audrey never gave up her hopes, even as they flamed out when Williams' career took off.
"I think they were passionately in love with each other but I don't think it was mature," Hiddleston says. "I don't think it was a relationship of consideration. They both led from the guts, not from the head. I think they did love each other, but I think they were thrown into difficult circumstances."
One thing that Audrey is to be commended for: Williams had no head for business, so he most likely wouldn't have become the star that he did without Audrey's business savvy. She facilitated his meeting people at radio stations, helped him get on the Opry, and was very clever about merchandising his image.
"I think there is no Hank Williams without Audrey Mae Sheppard," Hiddleston says.
"I Saw The Light" was written and directed by Marc Abraham. It opens in New York, Los Angeles and Nashville on March 25; then nationwide on April 1.