Hank3 says Tom Hiddleston has 'no soul' when singing Hank Williams' songs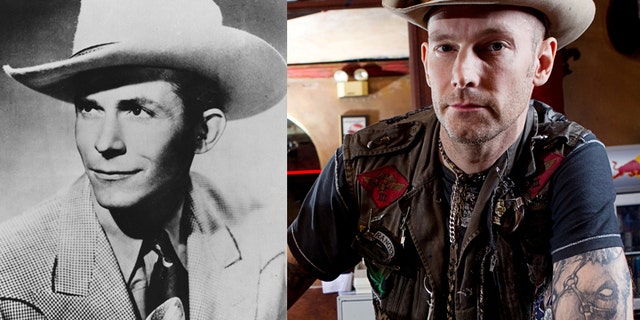 NEWYou can now listen to Fox News articles!
Tom Hiddleston, who is set to star as country music legend Hank Williams in the upcoming film "I Saw the Light," showed off his singing chops at the Wheatland Music Festival on Saturday. Best known for his role as Loki in "Thor," the British actor grabbed a guitar and played two Hank Williams, Sr. songs including "Move It On Over."
How did Hiddleston do? Not well at all, Hank Williams' grandson Shelton Hank Williams III said.
"Here is how you do it TOM ,You got no Moan Or SOul In your voice," Williams III, also known as Hank3, wrote on his Facebook page along with a video of himself singing "Move It On Over."
Hank3 sounded off to FOX411 in June when the news first broke of Hiddleston's upcoming role.
"To do a Hank Williams movie the way it should be done you need certain aspects in the mix to make right," the singer told FOX411 in a statement. "It goes way beyond having [an] American to play the role of Hiram Hank Williams, Sr. for it to be somewhat natural, [it] needs to be [an] American from the South who has eat lived and breathed these kind of roles before to make more respectable movie on Hank Sr."
So who would play a good Williams? Matthew McConaughey according to Hank3.
"Matthew McConaughey would be a good person for this role is because of he has played many roles as a Southern man. And he is from the South. And that is something no amount of money or acting classes can put into a role," he explained. "The other reason I thought Matthew would be a good fit for the role is because he has a natural arrogance, aka fire, that is needed for this role. Hank Sr. was very very sure of himself and basically very cocky. And Matthew always brings that fire to the table in every role he [plays]."
Hank3, who bears an eerie resemblance to his "Your Cheating Heart"-singing granddaddy, also told FOX411 of his disdain for "pop" country music.
"It seems that pop country has stuck around a long time," the "Country Heroes" singer told FOX411. "We've got to be progressing – new sounds have to happen – but it's not just this [pop] sound and nothing else. It just doesn't seem [the industry] is giving the underdogs much of a chance."
Hiddleston is set to begin filming the biopic in Louisiana next month.