The Emmys: Who will win, and who deserves it?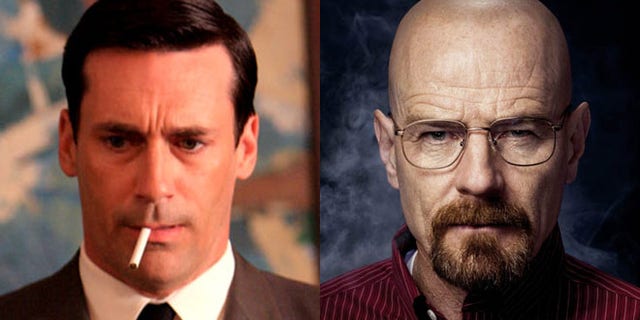 This is a particularly difficult year to divine which way the Emmy winds will blow — toward past favorites or strong new drama and comedy contenders. Here's TVGuide's wish list, and in some cases the usual wild guesses, about how it will all go down at Sunday's ceremony on ABC (8/7c) with Jimmy Kimmel's much anticipated first turn as host.

Drama Series
Boardwalk Empire, HBO
Breaking Bad, AMC
Downton Abbey, PBS
Game of Thrones, HBO
Homeland, Showtime
Mad Men, AMC

Hands down the toughest category to call. For the first time in five years, Mad Men is not the runaway front-runner. Not with the riveting first season of Homeland, the darkly brilliant Breaking Bad and the crowd-pleasing Masterpiece phenom Downton Abbey all as possible spoilers. All are deserving, and Mad Men has Emmy momentum in its favor, but unless there's a four-way tie — sorry, HBO, your epic fantasy and Prohibition drama don't stand a chance — the widespread affection for mainstream period fave Downton could edge out the edgier critical faves. Homeland was my No. 1 show of the last year — and it's coming back strong next weekend — so that's what I'm rooting for, but I'd be OK with any of the Top 4. (I would be pleasantly shocked with a Game of Thrones win, but fantasy is a tough sell at the Emmys, and the first season told a more unified story, as it did in the book series.)
Most likely to win: Downton or Mad Men; Should win: Homeland or Breaking Bad

Lead Actor, Drama
Hugh Bonneville, Downton Abbey
Steve Buscemi, Boardwalk Empire
Bryan Cranston, Breaking Bad
Michael C. Hall, Dexter
Jon Hamm, Mad Men
Damian Lewis, Homeland

Three-time winner Cranston had to sit out last year but is back with a vengeance, facing a strong field of stars still waiting for a first Emmy. Top challengers to Cranston's ever-more-chilling work as master criminal Walter White: Hamm, whose iconic portrayal of Don Draper gains depth by the season (and becomes more poignant the older the character gets), and Lewis as the tormented POW-turned-sleeper agent who always kept us guessing.
Most likely to win: Cranston; Should win: Hamm

Lead Actress, Drama
Kathy Bates, Harry's Law
Glenn Close, Damages
Claire Danes, Homeland
Michelle Dockery, Downton Abbey
Julianna Margulies, The Good Wife
Elisabeth Moss, Mad Men

If there's any slam dunk, it's Danes' blistering performance as the bipolar CIA analyst relentlessly tracking (and seducing) her enigmatic prey at the cost of her sanity. Too bad her arrival upstages Moss' most triumphant season to date as Peggy, who finally got the gumption to strike out on her own.
Most likely to/Should win: Danes
Supporting Actor, Drama
Jim Carter, Downton Abbey
Brendan Coyle, Downton Abbey
Peter Dinklage, Game of Thrones
Giancarlo Esposito, Breaking Bad
Jared Harris, Mad Men
Aaron Paul, Breaking Bad

If the rule holds that dying for your art wins you an Emmy, the contest is between Esposito's chilling kingpin Gus Fring and Harris' tragic ad man Lane Pryce. Incredibly, Mad Men has yet to win an acting Emmy in any category, and the deep pathos of Harris' performance certainly qualifies. But Esposito, with his icy control and menace (not to mention his explosive exit) is the favorite, much the way Margo Martindale triumphed on Justified a year ago.
Most likely to/Should win: Esposito
Supporting Actress, Drama
Christine Baranski, The Good Wife
Joanne Froggatt, Downton Abbey
Anna Gunn, Breaking Bad
Christina Hendricks, Mad Men
Archie Panjabi, The Good Wife
Maggie Smith, Downton Abbey
I love everyone's work here — how wonderful for Gunn finally to be nominated — and will likely be silently rooting for Hendricks, whose personal and professional growth as the fabulous Joan this season gave Mad Men some of its best moments. But this category often belongs to the scene-stealer, and no one's better at that than Dame Maggie as the withering Dowager Countess. (Who can't wait to watch her spar with Shirley MacLaine next season?)
Most likely to win: Smith; Should win: Hendricks
Comedy Series
The Big Bang Theory, CBS
Curb Your Enthusiasm, HBO
Girls, HBO
Modern Family, ABC
30 Rock, NBC
Veep, HBO
When you're on a roll, you're on a roll. It's unlikely anything can stop the glorious Modern Family's march to a third straight Emmy — although Big Bang just keeps getting better and more popular as it beefs up the wacky women's roles. From the underdog ranks, Lena Dunham's pungent Girls has impressive indie-cult cred, although HBO's three contenders could cancel each other out.
Most likely to/Should win: Modern Family
Lead Actor, Comedy
Alec Baldwin, 30 Rock
Louis C.K., Louie
Don Cheadle, House of Lies
Jon Cryer, Two and a Half Men
Larry David, Curb Your Enthusiasm
Jim Parsons, The Big Bang Theory
Time to back a dark horse, or should we say an ugly "Duckling," with the soulful Louis C.K. submitting his hour-long masterpiece set during a USO stand-up tour of Afghanistan. David as the "social assassin" in Curb's uproarious "Palestinian Chicken" episode could also potentially upset the presumptive favorites, Big Bang's double-winner Parsons and 30 Rock's much-rewarded Baldwin.
Most likely to win: Parsons or (long shot) Louis C.K.; Should win: Louis C.K.
Lead Actress, Comedy
Zooey Deschanel, New Girl
Lena Dunham, Girls
Edie Falco, Nurse Jackie
Tina Fey, 30 Rock
Julia Louis-Dreyfus, Veep
Melissa McCarthy, Mike & Molly
Amy Poehler, Parks and Recreation
Another toss-up in a very cluttered category. Falco was awesome as Jackie finally faced her demons, Emmy darling Louis-Dreyfus nailed the neurotic insecurities of a hapless Veep, and Poehler got my vote as an endearingly gung-ho city-council candidate. Few guessed McCarthy would win last year, and while I'm torn between last season's new "girls" — Deschanel's effervescent sprite and Dunham's bravely de-glamorized twentysomething — I'm defying the odds by sticking with Jess.
Most likely to win: Deschanel or Louis-Dreyfus; Should win: Deschanel or Poehler
Supporting Actor, Comedy
Ty Burrell, Modern Family
Jesse Tyler Ferguson, Modern Family
Max Greenfield, New Girl
Bill Hader, Saturday Night Live
Ed O'Neill, Modern Family
Eric Stonestreet, Modern Family
You can't swing an Emmy without hitting a Modern Family nominee, so whose turn is it this year? Many are favoring the overdue veteran O'Neill, but last year's winner Burrell remains the comic heart and soul of the show as the hapless doofus of a family man. Personally, I'd give it to the fearlessly hilarious Greenfield for going beyond the douchey surface to make us love the irrepressibly fussy and insecure Schmidt.
Most likely to win: Burrell (or any of his Modern co-stars); Should win: Greenfield
Supporting Actress, Comedy
Mayim Bialik, The Big Bang Theory
Julie Bowen, Modern Family
Kathryn Joosten, Desperate Housewives
Sofia Vergara, Modern Family
Merritt Wever, Nurse Jackie
Kristen Wiig, Saturday Night Live
The Modern women probably have the edge, but the late and beloved Joosten (whose character died in the Housewives finale) is a sentimental favorite, and Bialik's uncanny performance as Sheldon's femme-bot doppelganger represents a classic career comeback. Kudos to the Academy, by the way, for recognizing Jackie's delightful Wever as the sunniest of nurses, always reminding us that the show is essentially still a comedy.
Most likely to win: Bowen or Joosten; Should win: Bialik
Movie/Miniseries
American Horror Story, FX
Game Change, HBO
Hatfields & McCoys, History
Hemingway & Gellhorn, HBO
Luther, BBC America
Sherlock: A Scandal in Belgravia, PBS
The garish Horror Story series is the most nominated, having fought (and bled) its way into this category. But the traditional Emmy voter is more likely to reward History's grim all-star family-feud blockbuster Hatfields & McCoys, which successfully revived the classic historical made-for-TV epic, or HBO's topical docudrama Game Change, about the last presidential campaign, with Julianne Moore's knockout (and sure-to-win) impersonation of Sarah Palin. My other acting picks in the movie/minis field: Benedict Cumberbatch as the volatile Sherlock, and in the supporting categories, Jessica Lange continuing her winning streak for Horror Story, and Ed Harris as Game Change's John McCain, though I'd love to see the droll Martin Freeman make it a matched set as Sherlock's Watson.
Most likely to win: Game Change; Should win: Hatfields
Reality-Competition Program
The Amazing Race, CBS
Dancing With the Stars, ABC
Project Runway, Lifetime
So You Think You Can Dance, Fox
Top Chef, Bravo
The Voice, NBC
Hard to bet against the globe-trotting Race, because no other show has its scope and scale, and it has only lost once in this category (to Top Chef). And yet those revolving chairs in the "blind audition" round of NBC's singing spectacular The Voice is the best gimmick to hit this genre in ages, helping this upstart unseat American Idol. For pure talent, though, nothing beats Dance (before Fox messed with its format this year).
Most likely to win: Race; Should win: Dance