Taylor Swift told she needs to shower by the BBC's Greg James, causing fan uproar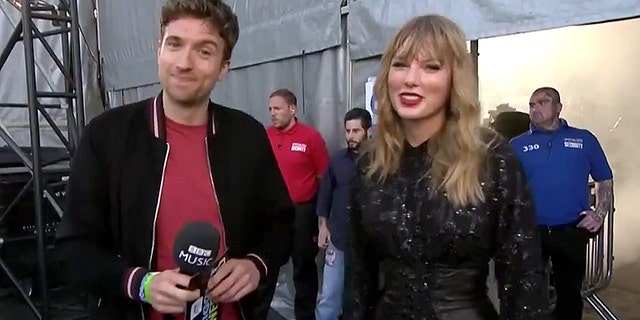 NEWYou can now listen to Fox News articles!
Taylor Swift fans are furious after an awkward comment by radio DJ Greg James following the star's performance in Swansea, Wales.
Over the weekend, Swift performed at the BBC's Biggest Weekend event in front of 26,000 people in a very humid Swansea.
After the concert, the singer gave one of her first recorded interviews in years. "I think you need to have a shower now," the BBC radio reporter told a somewhat sweaty Swift.
The singer replied, "I'm not offended that you said that. There's a lot going on and none of it's good here."
And though Swift seemed unphased by the hygiene comment, fans quickly flocked to Twitter to call out James.
One Twitter user wrote, "try ask same question to your girlfriend and wait how long your relationship will take until break up. jerk. moron."
Another tagged James and said, "I can't believe you just told the actual @taylorswift13 that she should probably go and take a shower. #BiggestWeekend."
But others found the comment humorous.
And some defended James pointing out that he and Swift have been friends for years.
Following the viral interview, the BBC host took to Twitter to weigh in on the incident. James jokingly wrote on his own account, "If anyone's got a video of a cow that gets excited when it sees the Queen, now would be a good time to tweet it."
He later retweeted People magazine's story about his interview and said, "Another zinger for my obituary."
The BBC host and Swift's relationship goes back to 2014, when James teamed up with the "Blank Space" singer for a "Carpool Karaoke"-like video that the two shot while driving around London.
After departing from Wales, Swift returned to the U.S. to continue her Reputation Stadium Tour in Denver, where she met with fans as well as the employees of Craftsy, a local company that supported Swift during her sexual assault trial by arranging Post-It notes with encouraging messages on its office window.
Craftsy re-tweeted an image with Swift with the caption, "Wow. We literally have no words. Still on #cloudnine from last night's #repTourDenver with @taylorswift13. THANK YOU, Taylor for the best night ever!"