Spielberg called out for promoting Apple streaming service after criticizing Netflix movies being considered for Oscars
Famed director Steven Spielberg has been on a campaign to get streaming films like those made by Netflix removed from consideration from the Academy Awards. While his argument had mostly to do with his preference for a cinematic experience vs. watching on the boob tube (awards for which are covered by The Emmys), many were still surprised to see him front and center promoting the release of Apple's new streaming service.
Apple CEO Tim Cook unveiled Apple TV+ to the world on Monday and got a little help from a lot of star power. Chief among the Hollywood stars that came out to drum up excitement for the new platform was Spielberg, whose Amblin Entertainment series "Amazing Stories" was ordered for the new platform.
STEVEN SPIELBERG FACES BACKLASH FOR URGING ACADEMY TO BLOCK NETFLIX FROM OSCARS
Spielberg appeared in person at the Steve Jobs Theater in California to discuss the new platform, but industry watchers both at the event and on social media spent the whole time wondering if his involvement in the new streaming platform colors his previous campaign to walk back Netflix's eligibility for awards.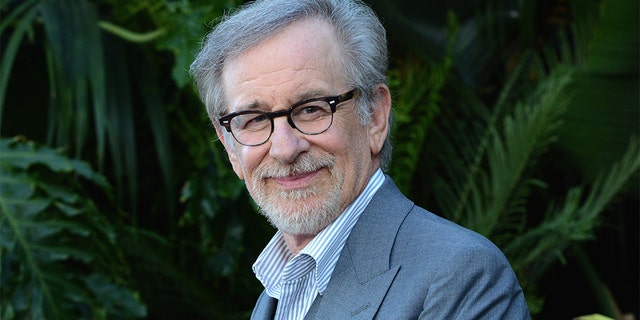 "Did we know Steven Spielberg was shilling for Apple during the kerfuffle with Netflix? Seems relevant!" BuzzFeed's Kate Aurthur noted on Twitter.
"Steven Spielberg, who has openly argued that movies that are just on a TV aren't real movies and shouldn't be considered the same kind of art, is being paid to tell you why Apple TV+ is good," wrote Game Informer's Imran Khan.
"If and when Spielberg brings a movie to Apple TV+, is he going to want it to be considered for Oscars?" asked Gizmodo's Charles Pulliam-Moore.
As previously reported, Spielberg has been outspoken about his distaste for movies that launch on streamers.
STEVEN SPIELBERG SAYS HE'LL NEVER DIGITALLY ENHANCE A PAST MOVIE AGAIN AFTER 'E.T.' BACKLASH
"I don't believe that films that are given token qualifications, in a couple of theaters for less than a week, should qualify for Academy Award nominations," he said. "Once you commit to a television format, you're a TV movie. If it's a good show, you deserve an Emmy. But not an Oscar."
It's worth noting that, despite his rhetoric on the matter, Spielberg has appeared on streaming services before, and does not seem to be getting into the streaming movie game at Apple TV+, but is instead throwing his hat into the TV series ring.
CLICK HERE TO GET THE FOX NEWS APP
As Variety notes, Amblin Entertainment is a full-service production company that does both ends of the entertainment spectrum. Furthermore, it's unclear at this time if Apple even plans to release its movies in theaters to make them eligible for the Oscars or will merely use them as fodder to convince people to sign up for the new service. As a result, it's too early to definitively call Spielberg's motives into question.