Stephen Colbert doesn't have 'Daily Show' regrets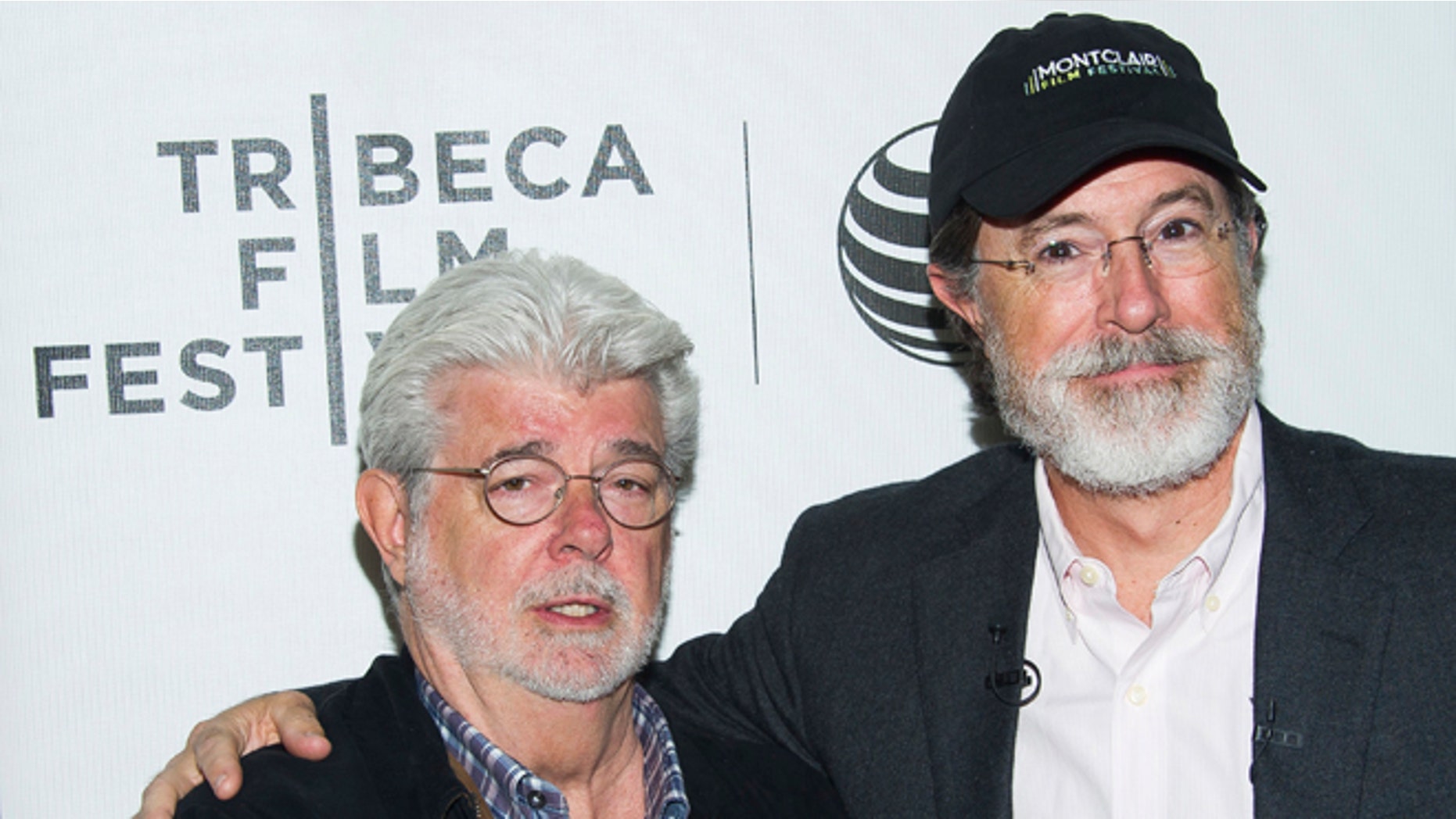 NEW YORK – Stephen Colbert sat down with George Lucas at the Tribeca Film Festival to interview the famed director about his long career in the film industry.

However, the comedian and soon-to-be host of "The Late Show" was thrown for a loop when Lucas turned the tables and asked him a question about his upcoming gig.  

"The perfect choice to replace that Jon Stewart fellow would have been you," Lucas said on Friday night. "Now you're working at late night where nobody sees you, who can stay up until one o'clock in the morning?"

Colbert seemed a little flummoxed, but answered that he's not worried about the new schedule.

"People keep asking why I'm heading into late night!" he said. "I was at 11:30, now I'll be on at 11:35. I'll drink a cup of coffee and stay up five minutes later!"

Colbert added that he wants to branch out, rather than stay with his Comedy Central roots.

"I'll never, no matter how successful I [may] be, get underneath Stewart's shadow," he said. "Someone who doesn't know [Stewart] as well, doesn't love him as much, might have a better time on that show than I ever would."

Colbert had high praise for Stewart, who he worked for on "The Daily Show" before landing his own show with "The Colbert Report."

"My memories will always be of [Stewart] as the keenest, most intelligent, most beautifully deconstructive mind, clearest thinker I have ever worked for," he said.

He also praised Stewart's successor Trevor Noah, referring to him, as a "very funny guy." Noah recently caused some controversy when old tweets he sent out were criticized and called anti-Semitic, sexist and racist. 

The room's attention then turned back to Lucas. After he sneezed on stage (an act that elicited an applause from the crowd, proving diehard fans will support anything he does) Colbert followed up with a clever quip, "May the force be with you."

While most of the discussion encompassed the creation of Lucas' earliest films such as "American Graffiti", the little seen "THX1138" and the original "Star Wars" trilogy, superfan Colbert couldn't resist asking what he thought of the new trailer for "Star Wars: The Force Awakens."

"I haven't seen it," Lucas confessed.

He also seemed to be in the dark about any plot details regarding the next chapter of the "Star Wars" saga.

"The first film was about a father, children and grandchildren," he said. "I hope they take it in a new direction. I have no idea what they're doing."

However, Lucas, who sold the rights of the "Star Wars" saga to Disney, didn't seem to be bothered by his lack of involvement in the new film.

"The one thing I regret about having made 'Star Wars' is that I never got to just go and see it," he said.

Lucas wished the film success but also confessed he never anticipated how big the original trilogy would become.

He said that after he showed "Star Wars" to a group of filmmakers, the likes of which included Brian Depalma and Steven Spielberg, no one liked it. No one except Spielberg, who was sure the film would be huge.

When the film was set to debut, Lucas took off to Hawaii, a trip he takes whenever one of his films is released.

Alan Ladd, the then president of 20th Century Fox and one of the films few believers, tried make him aware of the buzz surrounding "Star Wars."

Lucas still wasn't having it, explaining to Ladd, "This is a science fiction film. Science fiction films get a good old group of sci-fi fans. They'll go to anything the first week. Wait a couple weeks and you'll see what its really going to do."

So when did he finally start to believe the hype? Not until he turned on the news in Hawaii and saw Walter Cronkite reporting on the sensation.

Colbert took much less convincing. He detailed his experience seeing the film for the first time at age 13 after winning tickets to a promotional screening from a South Carolina radio station.

"We sat there in the dark theater and had no idea what this thing was going to be….As soon as 'Star Wars' (logo) appeared, we knew that everything was different."

"We got to school on Monday, because this was like a Saturday night, we couldn't explain to anyone how the world was different now."

He also detailed a button that came free with the promotional tickets that read "may the force be with you," which he still has to this very day.
Fans will have to wait until December 18th to find out "Star Wars: The Force Awakens" has the same kind of staying power.