Sports Illustrated swimsuit model Danielle Herrington: 'I was really nervous' to pose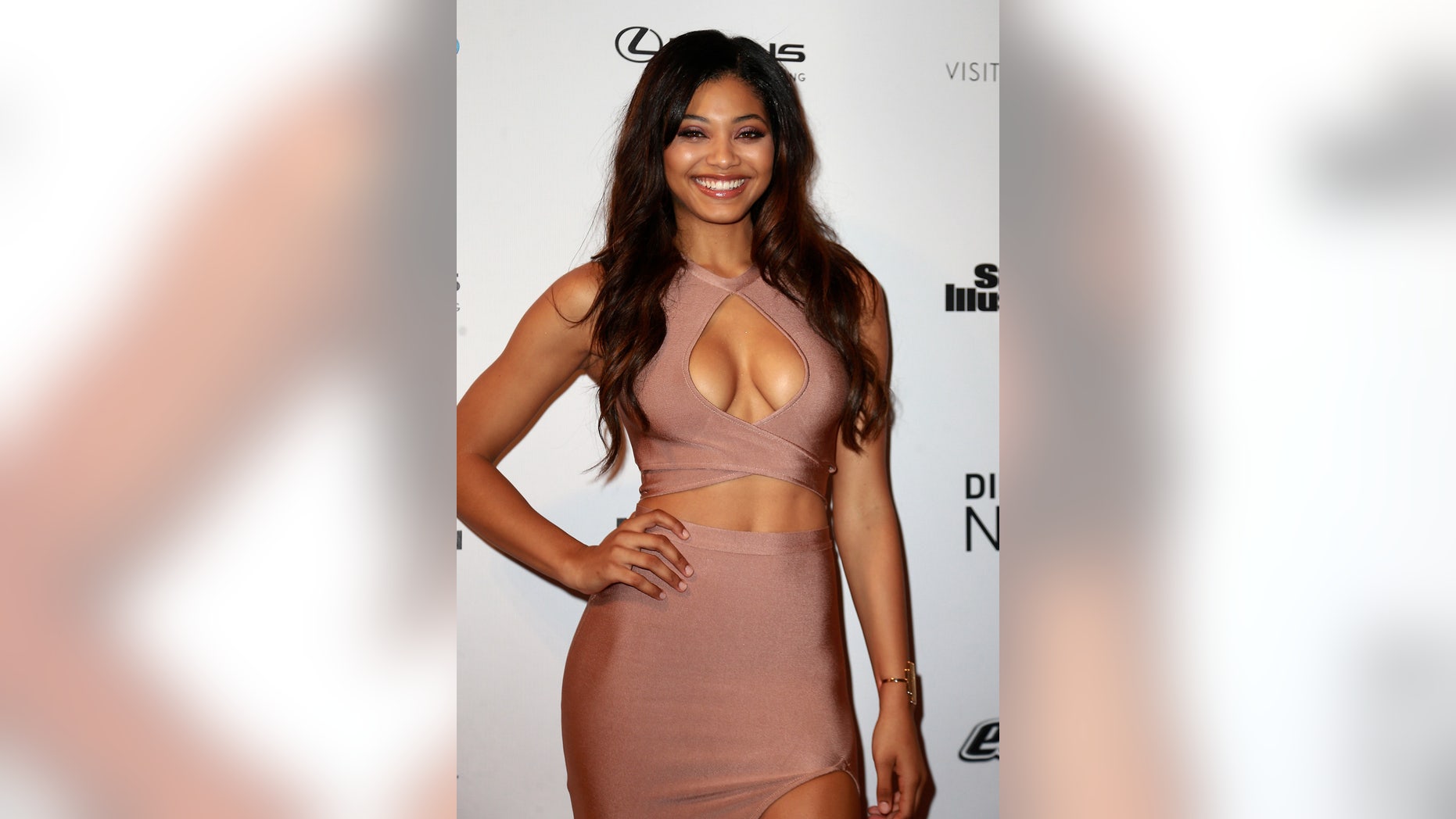 When Danielle Herrington first saw Tyra Banks on the cover of Sports Illustrated as a child, she instantly knew that one day she would follow in her idol's footsteps — and sure enough, she did just that.
SEXY LADIES OF THE 2017'S SPORTS ILLUSTRATED SWIMSUIT ISSUE
The Compton, Calif., native was one of many models to appear in this year's coveted Sports Illustrated Swimsuit issue and she instantly made a splash with her curves to celebrate body diversity. Herrington spoke to Fox News about heating things up in Fiji, the one person that made her star struck and the worst pickup line she's ever heard (and it's a doozy):
Fox News: What was it like growing up in Compton?
Danielle Herrington: I thought it was a pretty normal. A lot of the time after school, we would go to my grandma's house because my parents were working. We would swim, ride our bikes down the street, we had a trampoline, scooters, everything! I went to a private school so I guess I got away from the bad action.
KATE UPTON LANDS SI FOR THE THIRD TIME
Fox News: How did your family encouraged you to pursue modeling?
Herrington: I always wanted to do it, but honestly, I've always been really shy. Once I was in school, my mom said I should model. She heard about this modeling school and she said, 'We should try it out and see what happens.' I was super nervous, but my mom handled everything... I attended John Casablancas' modeling school around 10-11. That started it off. It helped me build confidence for what was to come... I started modeling when I was 13 and I was in school at the time. Up until college I didn't model as much because I was focused on school, of course.
Fox News: When did your relationship with Sports Illustrated begin?
Herrington: It was about four months being in New York when I met them [at age 21]. Then I found out I booked it two months after that... I just remember Tyra Banks being on the cover and that's where it all started for me. That's what really made me pursue modeling. SI was a goal from that point, from seeing Tyra on the cover. It was love at first sight… everything happened naturally.
Fox News: How was it like shooting for Sports Illustrated?
Herrington: It took place in Fiji and I was really nervous. You know how you're so nervous your knees shake? That was me. SI was my first big job modeling so I definitely felt the pressure within me… But the morning of the shoot, I woke up around 4 a.m. and I just couldn't eat. I remember just having a little coffee. I was too nervous to eat… We then took a boat to a small island, which is where they shot 'Castaway.' And honestly, once we started, I felt so comfortable, super confident and sexy. We got some good shots out of it.
SI MODEL MIA KANG CREDIT MUAY THAI FIGHTING FOR BIKINI BODY
Fox News: What was going through your mind when you first saw those images for the first time?
Herrington: Oh goodness! I couldn't stop smiling. I felt like, 'Finally.' It was a dream come true. I've been wanting to do this for so long, since seeing Tyra on the cover. I was in tears. I was with my mom and we were laughing and crying. Just thinking about it now makes me smile.
Fox News: This year's Swimsuit issue was all about celebrating body diversity. Do you think Sports Illustrated will continue this trend in future issues?
Herrington: Definitely, I think so. This is a part of something bigger. I feel like the industry is getting more diverse with the body types. I'm really curvy. I'm not plus size, but it can be difficult because sometimes I'm just too curvy for certain things or not curvy enough. But SI has every single body type around.
Fox News: In your opinion, why is it important now more than ever for Sports Illustrated to feature different body types?
Herrington: Because there's so many different kinds of bodies in the world. I think it's amazing, honestly. Not everyone is the same size. Not everyone is super skinny and not everyone is plus size. And we need to celebrate all of that, including the in-between. We should cater to everyone. A young girl can flip through the magazine now and say, 'Oh, that's like me!' They can relate, which I think is really important. And I love that.
CHRISSY TEIGEN FLAUNTS POST-BABY BODY ON SI
Fox News: How has your life changed since you appeared in Sports Illustrated?
Herrington: It's been a little bit of a whirlwind, for sure. I'm just constantly busy and working. I've been having great feedback and obviously my Instagram followers went up! Girls are looking up to me now, which I think it's nice. And I'm happy to share my experience with them.
Fox News: Have you experienced a star struck moment in your career?
Herrington: Well, I figured Ashley Graham was going to be in this year's issue, but I was star struck when I met her. She's so beautiful and she has such a good presence about her. You can feel her energy when she walks into a room. She has such a positive energy. Every time I see her in person, I'm just blown away by her beauty.
Fox News: What's the worst pickup line you've been told?
Herrington: There's way too many. But the worst? I was at a press event and this guy comes up to me and said, 'Hey, yeah, I make movies.' I said, 'Cool! Nice meeting you.' You know, small talk. And before he left, he's like, 'Oh, look at this.' And he shows me a picture of himself holding an Oscar. And he's like, 'Yeah, I won an Oscar.' I said, 'Oh, great! That's nice!' I just thought it was so odd he had to Google himself and show me a picture of his Oscar.