Soon-Yi Previn, Woody Allen's wife, says adoptive mother Mia Farrow took 'advantage' of #MeToo movement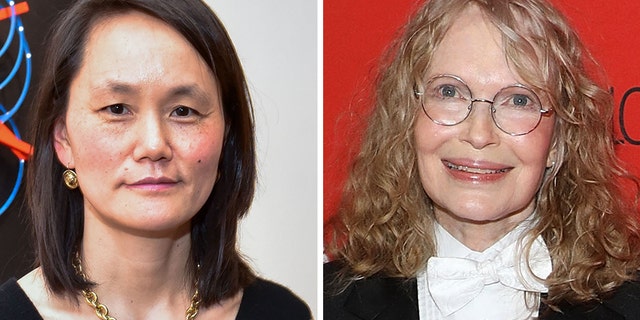 NEWYou can now listen to Fox News articles!
Soon-Yi Previn, the wife of filmmaker Woody Allen, broke her silence in an interview published Sunday, saying the sex assault allegations against her husband were "so upsetting, so unjust" — and that Mia Farrow, her adoptive mother, has "taken advantage of the #MeToo movement."
Allen previously claimed that Farrow "coached" her daughter, Dylan, who said Allen sexually assaulted her in 1993 when she was just 7 years old. Reps for Mia Farrow did not immediately respond to Fox News' request for comment; she has strongly supported Dylan in the wake of the accusations.
The writer of the New York magazine piece, Daphne Merkin, acknowledged she's been friends with Allen for more than 40 years.
Mia Farrow's son Ronan, who's become a prominent reporter in the #MeToo movement and has stood by his sister Dylan, tweeted that he was "angry" at New York magazine for the story, saying he considered the interview a "hit job," and a story that Allen had planted to "attack and vilify" Mia Farrow.
"As a journalist, I'm shocked by the lack of care for the facts, the refusal to include eyewitness testimony that would contradict falsehoods in this piece, and the failure to print my sister's responses," Ronan Farrow tweeted. "Survivors of abuse deserve better."
His siblings also released a statement in response to Previn's interview, saying they "love and stand by" their mother who's being "unfairly attacked," and disputed Previn's allegations of emotional abuse at the hands of Mia Farrow.
Soon-Yi Previn said that ever since Farrow and her husband at the time, composer Andre Previn, adopted her from South Korea in 1977 when she was about 6, she and Farrow have been "like oil and water." Soon-Yi speculated she may have been too old for Farrow to raise her as she wished.
Allen and Farrow's relationship lasted from 1980 until their split in 1992, when he and Soon-Yi became a couple. The pair married in 1997.
WOODY ALLEN BELIEVES HE SHOULD BE THE 'POSTER BOY' FOR THE #METOO MOVEMENT
"Mia wasn't maternal to me from the get-go," Previn said, recalling that the first time Farrow gave her a bath it wasn't in a caring way, but "she just kind of threw me in" the tub.
Previn recalled another time in 1979 when Farrow allegedly shouted at her and told her, "I should send you to an insane asylum!" after one of her siblings got hurt while playing.
"I was shaking," Previn said. "I was so scared I thought she was actually going to put me in an insane asylum — and I understood what it meant."
She explained that throughout their relationship, she "really can't come up with" a positive memory with Farrow.
Speaking about her relationship with Allen, Previn called it "a moral dilemma" and "a huge betrayal on both our parts, a terrible thing to do, a terrible shock to inflict on [Farrow.]"
Still, she said her relationship with Allen has worked because she "felt valued."