Sandy disrupts Springsteen, Letterman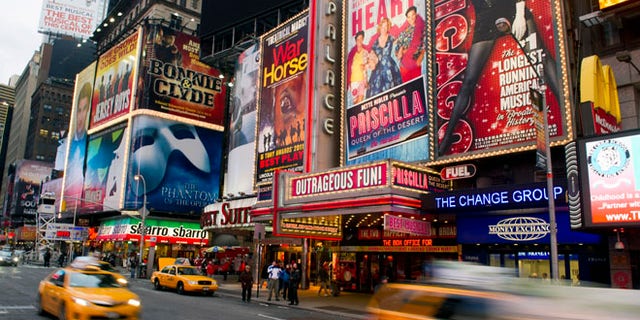 NEW YORK – Broadway, Carnegie Hall and Lincoln Center all remained dark Tuesday as Superstorm Sandy left the New York entertainment industry fighting to go on with the show -- even if it meant performing for empty studios.
That was how David Letterman and Jimmy Fallon taped their late shows Monday night, leading to some remarkably quiet monologues. On Tuesday, as the city took account of the damage wrought by the storm, some late-night shows were moving back into full production, while the aftermath of Sandy continued to cause the cancellations of film premieres, film and TV production and even that most unshakable performer: Bruce Springsteen.
The Bruce Springsteen and the E Street Band concert scheduled for Tuesday night at the Rochester Blue Cross Arena in upstate New York was postponed until Wednesday because of the hurricane. Officials at the arena said the concert was rescheduled due to flight cancellations for Springsteen's band and more than 1,000 ticket holders.
In New York, despite a downed subway system and a large swath of Manhattan being powerless, others were pushing on.
ABC announced Tuesday that Jimmy Kimmel, who had planned to bring his Los Angeles-based "Jimmy Kimmel Live" to Brooklyn for a week's worth of shows, will be live from the Harvey Theater at the Brooklyn Academy of Music on Tuesday night after canceling Monday's show.
Jimmy Fallon, after sending his studio audience home Monday, planned to resume taping "Late Night" with an audience Tuesday.
Comedy Central's "The Daily Show" and "The Colbert Report" both canceled Tuesday night's tapings. Representatives for Letterman's "Late Show" didn't immediately respond to questions about Tuesday's plans.
Letterman and Fallon's taped shows Monday, sans studio audiences, were an unusual sight. Letterman read his trademark top 10 list with hand-written signs held up for each entry, and guest Denzel Washington showed up in a yellow rain slicker, claiming he swam to the Ed Sullivan Theater. On "Late Night," guest Seth Meyers said the experience was "like watching Charlie Rose if he had a band and everybody was a little bit high."
"Saturday Night Live," for which Meyers is a head writer, is expected to put on a new show Saturday as scheduled, with host Louis C.K., who himself had to cancel two Sunday stand-up performances in New York.
The city revoked film permits for all five boroughs on Tuesday, after doing the same Monday. Among the productions affected are "Smash," "Gossip Girl," "Person of Interest," "666 Park Avenue" and "Elementary." Films forced to stop shooting include Darren Aronofsky's "Noah" and Akiva Goldsman's "Winter's Tale."
The Tuesday premiere of Joe Wright's Tolstoy adaptation "Anna Karenina" was canceled.
ABC's "Good Morning America," NBC's "Today" show and "CBS This Morning" aired live Tuesday with extensive storm coverage, though "GMA" was forced to cancel its planned Wednesday Halloween special.
Daytime shows were less successful Tuesday, with production called off for "Live! With Kelly and Michael," "Katie," "The View" and "The Chew." ABC said work on all the programs would resume Wednesday.
While Broadway theaters were closed and ready to reopen Wednesday, the thriving downtown off-Broadway community, with most of its theaters in lower Manhattan, was still assessing the damage and likely facing a longer time off. The superstorm already forced the well-respected Vineyard Theatre in Union Square to cancel performances of its world-premiere production of "Checkers," which was to open Wednesday.
Many of the cultural institutions of New York remained shuttered Tuesday. Aside from Carnegie Hall and Lincoln Center cancelling performances, the Metropolitan Opera and Radio City Music Hall were also closed.