Rosario Dawson under fire after posting op-ed slamming labor activist Dolores Huerta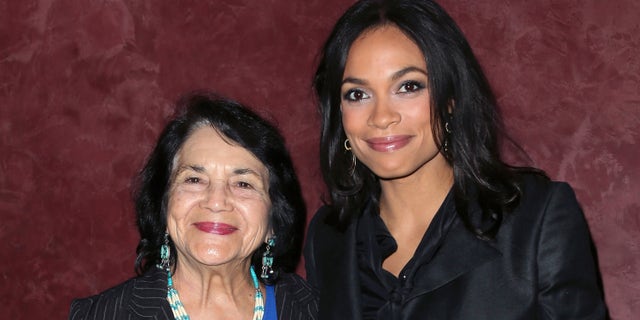 NEWYou can now listen to Fox News articles!
Rosario Dawson may have played Dolores Huerta in a Cesar Chavez biopic, but that doesn't mean she agrees with everything the icon says.
The actress and political activist wrote a scathing open letter to the Mexican-American labor activist late last week in response to Huerta's op-ed in Medium that slammed Bernie Sanders' record on immigration. Huerta is a strong supporter of Hillary Clinton.
"Dolores, I am surprised, dismayed, and concerned that you would do your legacy such a disservice by becoming an instrument of the establishment, rather than joining this movement to create a better America like you once inspired us to do," Dawson, a Sanders supporter, wrote in the Huffington Post.
While the actress and co-founder of Voto Latino acknowledges the hard work Huerta has done for Latinos, workers' rights, unions, LGBT and feminist movements and against police brutality, Dawson could not fathom why "the same woman who has made it her life's mission to speak the truth and shed light on corruption, lies, and false narratives created by the corporate elite and special interest groups, would now suddenly create a narrative that distorts facts and misguides American voters."
Dawson went on to highlight a recent incident in which Huerta – and actress America Ferrera – claimed that Sanders supporters chanted "English only" at a Nevada caucus.
"Though it was debunked by multiple media outlets and video evidence, neither of you have corrected, apologized for, or taken down the posts," she said. "It's race baiting, misleading, divisive and inaccurate and I hope you both will rectify that immediately."
While Huerta has not publically responded to Dawson's letter, many are taking to the Internet to voice their disapproval of the "lecture" she gave the legendary activist.
Cindy Casares, a columnist for the Texas Observer, called out Dawson in an op-ed for the Guardian US saying that if Huerta has concerns about Sanders, people should listen to them.
"Don't insult her integrity by calling her an 'instrument of the establishment'," she wrote, asking Dawson – and Sanders – to explain how United Farm Workers (the labor union created by Huerta and Chavez) are a "bunch of corrupt sell-outs."
Casares claims Sanders' campaign strategy is to "portray himself as an exemplar of moral virtue and Clinton as evil incarnate."
"Not only that, he decries anyone who doesn't agree with him as a corrupt sell-out. Some of his supporters seem to agree," she added.
Others who shared Casares' op-ed on Twitter slammed Dawson: "When an actor dismisses commitment of UFW co-founder, arrested 22x, the blowback is fierce."
In a Facebook comment, a reader wrote: "Regardless of whether you agree with Dolores or not, we do have freedom of choice in this country and we do have freedom of speech in this country. We also have a right to (our) opinions. When are you celebrities going to accept that and stop trying to force this woman to support a candidate who she doesn't want to support? Dolores has the right to vote for whomever she (chooses) to support."
However, not everyone is dissing Dawson.
"If she didn't already have a healthy career as an actress, I'd say Ms. Dawson should run for some kind of public office. I'd vote for her," one fan wrote on Facebook.
"A magnificent statement by Rosario Dawson. A letter not only for this campaign for Bernie, but a powerful and eloquent statement, a manifesto of freedom for all people, for all time. Thank you, Rosario Dawson," another person wrote.
Dawson has not commented on her open letter since it was published on Friday. However, her introduction of Sanders at a recent campaign rally in San Diego, California has been making its rounds online.
"I have been doing voter registration for 11 years," she told the crowd in an impassioned speech, "and I can tell you the one question I'm asked over and over and over and over and over again is 'where are the young people?' Right here."
She continued: "We need you now more than ever. Youth has been on the right side of history on every issue."