Rob Kardashian gets airplane banner to wish Blac Chyna a happy birthday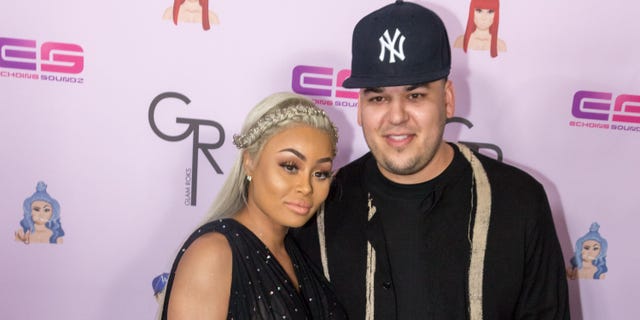 Rob Kardashian went all out to wish pregnant fiancé Blac Chyna a happy 28th birthday.
The reality star – and Arthur George sock designer – hired an airplane to fly a birthday banner over Miami on Wednesday in celebration of Chyna's birthday.
"Happy Birthday Angie. I adore you!!!" the sweet message said, with a big heart in the middle, according to Us Weekly.
Kardashian, 29, and Chyna – whose real name is Angela Renee White – are currently vacationing in Florida to celebrate her birthday.
On Wednesday, he also shared a video of his smiling fiancé in front of hundreds of pick, red and white flowers on Instagram.
"28 bouquets of flowers with 28 reasons with I Love Her for her 28th Bday!!" he wrote.
The same day, the bride-to-be, who is of Dominican descent from her mother's side, also hosted a birthday bash at G5ive strip club in Miami. According to Us Weekly, she snacked on French fries and enjoyed a four-tiered birthday cake with a giant silver bow.
"The group seemed to act as if they were regular group of friends celebrating a birthday," a source told E! News. "The whole table sang happy birthday loudly and clinked glasses of prosecco to their friend on her birthday. Rob even gave his girl a big kiss after she blew out her birthday candles.
Her birthday celebrations followed their red carpet debut as a couple – Kardashian's first since 2013 – to launch Chyna's emoji app, ChyMoji. The couple used the app last week to announce her pregnancy.
This is their first child together after recently getting engaged in April. This will be the second child for Chyna, who shares 3-year-old song with rapper Tyga, who had been dating Kardashian's half-sister Kylie Jenner for some time. Tyga and Jenner reportedly ended their relationship before the 2016 Met Gala earlier this month.