Ringo Starr, Barry Gibb tapped by Queen Elizabeth for British knighthood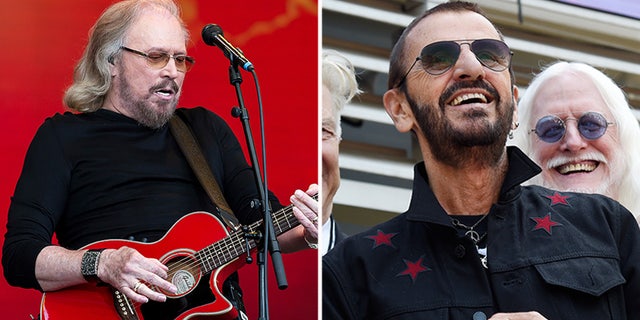 NEWYou can now listen to Fox News articles!
Beatles drummer Ringo Starr and Bee Gees singer Barry Gibb are among four British citizens who have been knighted by Queen Elizabeth as part of her New Year's Honors List.
The list, published Friday, revealed that Starr, 77, was tapped to receive knighthood from the queen, along with Gibb, the oldest and last surviving of the brothers who formed the pop group the Bee Gees.
Liverpool's Starr, whose real name is Richard Starkey, is being honored for his services to music, according to the list, which is published by Britain's Cabinet Office twice a year.
PAUL MCCARTNEY TICKETS INTENDED FOR THE HOMELESS GIVEN TO AUSTRALIAN SALVATION ARMY LEADER'S DAUGHTER
The process starts with nominations from the public, which first are reviewed by a specialist committee and then by a main honors committee. The nominations are then sent to the prime minister before the various honors are bestowed by the queen or senior royals.
Starr, responding to his nomination for knighthood, said: "It's an honor and a pleasure to be considered and acknowledged for my music and my charity work, both of which I love. Peace and love. Ringo."
The drummer for one of the most famous bands in music history, Starr's knighthood follows that of fellow bandmate Paul McCartney, who was bestowed the honor in March 1997. Starr and McCartney are the lone surviving Beatles.
GRAMMY AWARDS 2018 NOMINEES AND SHOW INFORMATION
Gibb, who's being recognized for his services to music and charity, said his knighthood "is as much [his brothers'] as it is mine."
He said his brothers and late bandmates, twins Robin and Maurice Gibb, are "responsible" for the honor.
"This is a moment in life to be treasured and never forgotten," he said.
The Bee Gees formed in the late 1950s, and enjoyed huge success during the 1970s disco era, consistently topping the singles charts and triumphing with album sales.
Other Brits tapped for knighthood include children's book author Michael Morpurgo, 74, and former British Deputy Prime Minister Nick Clegg, 50, who campaigned to keep Britain in the European Union.
The Associated Press contributed to this report.