Rick Sanchez Apologizes to Jon Stewart for 'Bigot' Comment, Wife Says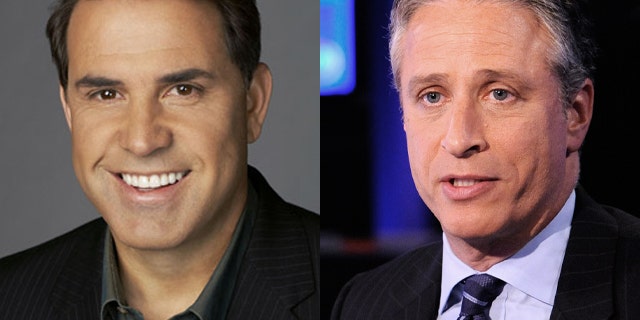 You call that an apology?
Former CNN anchor Rick Sanchez says he's sorry for calling comedian Jon Stewart a bigot on a radio program last week, or at least that's what his wife said on Facebook Monday.
Sanchez's wife, Suzanne, revealed the news, writing "Rick apologized to jon stewart today." She also blamed her husband's comments during the now infamous radio interview last Thursday on an intense work schedule that caused him to "mangle his thought process."
"They had a good talk. jon was gracious and called rick, 'thin-skinned,'" she wrote.
"His exhaustion from working 14 hr days for 2 mo. straight, caused him to mangle his thought process inartfully. he got caught up in the banter and deeply apologizes to anyone who was offended by his unintended comments," added the stay-at-home mom -- who has four children with Sanchez.
Neither Stewart nor Sanchez himself have commented on the apology.
CNN fired the "Rick's List" host late Friday after Sanchez, who was born in Cuba and raised outside Miami, said that racism in the media comes "not just [from] the right," but also at the hands of the "elite, Northeast establishment liberals."
"Deep down, when they look at a guy like me, they see a guy automatically who belongs in the second tier, and not the top tier," the 52-year-old told Pete Dominick on the "Stand Up With Pete Dominick" radio show Thursday.
He then pointed out Comedy Central's Stewart, calling him a bigot with a "white, liberal establishment point of view" and accusing "The Daily Show" host of picking on Sanchez's on-air mistakes because of his race.
"Here's what they do. This is the game they play: 'I just picked on Fox News, because they just had a bold-faced lie about something -- dammit, that means I gotta find something on CNN. Oh, I know… wait, hold on, let me find, oh that Rick Sanchez, that little Puerto Rican guy. I'll make fun of him,'" Sanchez surmised.
Later on in the the radio interview, Sanchez was asked about Stewart being considered a minority since he was Jewish, but balked at the suggestion.
"Very powerless people," he laughed. "He's such a minority, I mean, you know… Please, what are you kidding?…I'm telling you that everybody who runs CNN is a lot like Stewart...the people in this country who are Jewish -- are an oppressed minority? Yeah," he said.
Dominick, the host of the Sirius XM radio show, reacted to the Sanchez controversy on Monday saying that his guest came into the studio with a "live grenade in his mouth."
"He came into the studio Thursday with a live grenade in his mouth and he pulled the pin. I tried to put it back for him but he wasn't having it," Dominick said.
Sanchez joined CNN in 2004 and became the host of his own show "Rick's List" in January 2010.
"Rick Sanchez is no longer with the company," read a statement released from CNN on Friday, the day after the interview. "We thank Rick for his years of service and we wish him well," it added.
-NewsCore contributed to this report