Pop Tarts Scene and Herd: Celebrity Sightings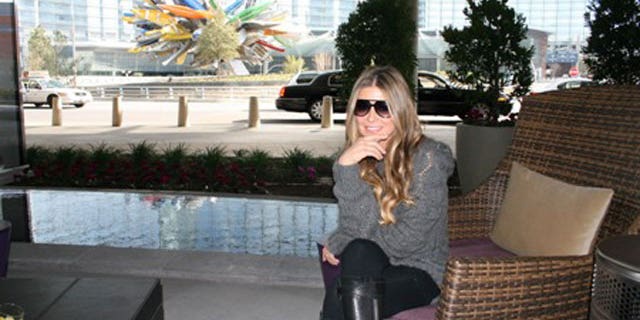 Katy Perry and Russell Brand, Stevie Wonder, Christina Aguilera and husband Jordan Bratman, NeYo and T-Pain at Hollywood hot spot Wonderland to honor legendary producer Christopher 'Tricky' Stewart with a toast and a giant CRUMBS cake.
Lindsay Lohan, Ryan Phillippe, Julianne Hough and Joaquin Phoenix celebrating Kings of Leon's three Grammy wins at their Neuro/42BELOW official afterparty at Voyeur West Hollywood.
Carmen Electra pampering herself with a two-hour Organic SpaRitualTM manicure and pedicure at Vdara Health & Beauty followed by a quick reprieve within Bar Vdara's intimate lounge while staying at Vdara Hotel & Spa within CityCenter Las Vegas.
Brandy and Akon swapping numbers at Universal Motown Republic Grammy After-Party at W Los Angeles-Westwood.
Dave Matthews Band, Guster, Maroon 5 & The Roots jamming out at Jane's House in Hollywood for the launch of Green Music Group (GMG), a project of Reverb's launch party.
Nick Jonas & Selena Gomez at Philippe in Los Angeles dining in the private wine room with 10 others before getting bombarded by fans as they exited. Dining across the room was Kevin Connelly with a group of friends.
Quentin Tarantino, Estelle, Rza, Smokey Robinson (who danced with his wife all night and got down to "Empire State of Mind"), Mos Def, Jade from Top Model, Busta Rhymes, Faith Evans and Michelle Williams partying up at Maxwell's Post Grammy bash at SkyBar on Sunset.
Adam Lambert celebrating his 28th birthday at West Hollywood Mondrian's ADCB with about 100 of his friends and family. Samantha Ron son was on hand DJing the evening, which of course led to a visit from Lindsay Lohan. Lindsay arrived with a guy pal and hung out by Sam and Sam's sister most of the night. Also there to wish Adam a happy birthday was rocker Slash.
Stephanie Pratt hanging out with Gillis Marini at The SuperModels Unlimited Party at Avalon in Hollywood sponsored by YMI Jeans.
Kobe Bryant enjoying a couple beers with friends at Gerber Group's Whiskey Park in the wee hours of the morning upon his arrival to New York.
Victoria Beckham and sons Brooklyn, Cruz and Romeo grabbing gelato at ChocolateBox Cafe in the Malibu Country Mart after a warm day at the beach.
Ben Stiller dining at Nove Italiano in Vegas with seven others as they enjoyed dinner and the city view at a table on the terrace level. After his meal, Stiller took photos with Executive Chef Geno Bernardo and even signed his celebrity door.
Kris Allen and Kimberly Caldwell spending time at the Lancer Dermatology skin care booth at the Distinctive Assets Grammy Lounge, snagging skin care products to prep for music's big night.
Rashida Jones putting for her charity, Peace Games, at Northern Trust Open's PLAY for LA event on Rodeo Drive in Beverly Hills.
Tracy Morgan takes one on the chin from his girlfriend Taneisha while taking a break on the set of the Volkswagen "Punch Dub" Super Bowl ad.
Reese Witherspoon visiting the Neuro Kids Club at the Unforgettable Evening Event benefitting the Women's Cancer Research Fund where her kids and friends were amongst the 60 who made Taylor Swift Cupcakes at the Sprinkles cupcakes bar, played dance games and hung out at the Neuro Bar before heading to the stage for a Taylor Swift performance.
Anthony Kiedis, David Burtka, Drew Barrymore, Ed Begley Jr., Geoff Stults, John Hensley, Justin Long, Neil Patrick Harris, Rachel Griffiths and Sam Trammell at Art Los Angeles Contemporary (ALAC) VIP Opening Night Reception.
Miss Universe 2008 Dayana Mendoza informing celebs about safe sex as she handed out LifeStyles® SKYN™ condoms, the "closest thing to wearing nothing" at Park City, Utah.
Glenn Close taking her family to lunch at Society Café at Encore Las Vegas. The group started with Grandma Rose's Meatballs and the Grilled Pepperoni Flatbread. For lunch, Close enjoyed the Market Chop Salad and a latte.
Rihanna at the Grammy's Gifting Suite at the Staples Center looking cute in tight acid washed jeans and a cropped top. The songstress and Mary J. Blige also both selected the same Alexander McQueen oversized cat eye sunglasses from Solstice Sunglass Boutique at the event.
Taboo and Apl.de.Ap of The Black Eyed Peas backstage at Staples Center at the Distinctive Assets Official Backstage Grammy Lounge to pick up video cameras from Vivitar to take on tour with them.
Jennifer Garner and Shirley MacLaine enjoying the Valentine's Day flavored Yummy Cupcakes at the Valentine's Day movie junket in Beverly Hills.
Dave Matthews, Cindy Crawford and Rande Gerber, John Legend, Common, Tyson Ritter, Joel Madden, Jeremy Piven, Stefan Lessard and Alice Cooper partying at the John Varvatos' store in Los Angeles.
Jessica Lowndes getting flirty with "True Blood" hunk Ryan Kwanten at the BlackBerry and Dipdive.com hosted Data Awards. The two were spotted chatting and rocking out as Will. i. am and the Black Eyed Peas blasted their hit "I Gotta Feeling."
Peter Facinelli indulging in a shopping trip at Armani Exchange in LA, picking up sweaters, jackets, jeans, suiting and winter accessories. Peter also picked up items for his wife, Jennie Garth. Speaking of Garth, she was spotted stocking up at Ann Taylor in Sherman Oaks.
Russell Simmons at the Music 4 Peace Press Conference to bring awareness to the initiative that aims to initiative that aims to educate, empower, and improve the world beginning with the universal language of music.
Bethenny Frankel and Joanna Krupa at 102.7 KIIS FM & 98.7 FM 2nd Annual Grammy Gift Lounge at the Conga Room in Downtown, Los Angeles.
First time Academy Award nominee Anna Kendrick celebrating her nomination with close friends at RH restaurant at the Andaz Hotel.
Aubrey O'Day, Gabourey Sidibe, Ashanti and Michelle Williams picking up Onitsuka Tiger goodies at Ne-Yo's midnight brunch at the new W Hotel in Westwood.
Adam Lambert picking up Phillips Norelco Body Groomers at Smashbox Studios in Los Angeles.
Nina Dobrev, Ian Somerhalder and Paul Wesley helping Armani Exchange and NYLON Magazine celebrate the February Vampire Diaries cover issue at the Love Bites party at 675 Bar.
Bridget Marquardt hosting the Miss Playboy Club Model Search at Playboy accompanied by the monthly winners of Miss Playboy Club Model Search 2009, they partied at a VIP table where they drank Russian Standard Platinum and Perrier Jouet Champagne.
Katie Holmes chatting to Kevin Kline about their kids and how much she missed Suri while at The Greenhouse Actors Lodge for Sephora's "The Extra Man" private dinner party.
John Legend and Captain Morgan attending the Primary Wave Music Publishing pre-Grammy celebration.
Jennifer Love Hewitt and Jamie Kennedy at TAO Las Vegas for the Fourth Annual TAO A GO GO contest at Worship Thursday. Jennifer and her mom, who was once a dancer, helped to choose one of the finalists. The girls headed to the catwalk in the main nightclub room where they had a dance-off, with the crowd choosing the winner by cheers. $10,000 was awarded to Grace Atencio, a local cocktail server who said she was going to pay her mortgage and her bills and that, "dancing is human nature."
Gabrielle Union and Joy Bryant stepping out to commemorate the 40th anniversary of ESSENCE magazine, honoring nine-time GRAMMY-winner Mary J. Blige at the Sunset Towers Hotel.
Stephanie Pratt happily shaking hands with PURE partygoers down on the main dance floor, as she greeted them all from the VIP stage area while hosting at the Vegas hot spot.
Michelle Williams rocking an edgy, new short hairstyle, checking out her boyfriend, musician Chris Dave, perform at The Sixth Annual Roots Jam Session presented by Vibe and Green Music Group in Los Angeles at KeyClub. Williams watched his performance from the VIP balcony and later reunited with him backstage, where the happy couple held hands and chatted with singer Estelle.