Owen Wilson surprises U.S. troops with flag football game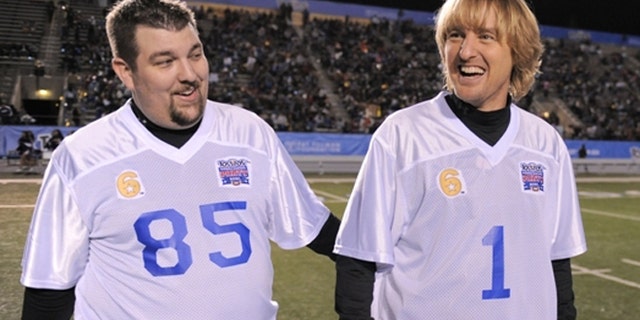 LOS ANGELES – "Wedding Crashers" star Owen Wilson joined forces with "Modern Family" star Eric Stonestreet, the band "Gym Class Heroes," and several NFL players and coaches for a surprise flag football game and party with members of the U.S. military in Los Angeles last Thursday.
"As an American, I have gratitude and extreme thanks for everything they (the military) do on our behalf," Wilson told FOX411's Pop Tarts column before taking the field.
And while Wilson is now one of Hollywood's highest paid comedic actors, a career in the Armed Services was, at one point, not out of the question.
"I did consider another career path," he explained. "One of the movies I first worked on tested so badly I was thinking, geez, I may have to think about going into something else, but then everything worked out."
Wilson and his partner in comedy Vince Vaughn recently reunited for the upcoming movie "The Internship," and used "research" as an excuse to mix business with, what else, some more football!
"One of the most fun things was when it was set up for us to go to a Notre Dame game where we got to be on the sidelines," he said. "Then we went to a 49ers game when we were filming ... so we got to do a lot of football stuff."
And despite his career success, Wilson says he still feels often like a Hollywood "intern" himself.
"Just today I was on the beach and they were filming a commercial and I was like, 'Hey what are you guys filming?' There is something kind of exciting about Hollywood," Wilson added. "So it's a nice thing to be part of."
Made possible through a partnership with Got Your 6 and the Pat Tillman Foundation charities, the Tostitos Homecoming Party Bowl will be featured during the Tostitos Fiesta Bowl telecast on ESPN and across social media on January 3.
Danielle Jones-Wesley contributed to this report.