Oscars 2018: Harvey Weinstein scandal on everyone's minds
Harvey Weinstein was kicked out of the Academy and banished from Hollywood, but his name was still prevalent at the first Oscars since his scandal broke.
Host Jimmy Kimmel wasn't afraid to address the elephant in the room as he spoke about Weinstein, the #MeToo movement and the onslaught of sexual harassment charges Hollywood has faced in recent moves in his opening monologue.
Kimmel called the show "a night for positivity" but he also spoke straightforwardly about the industry's poor record for female directors and equal pay.
Jimmy Kimmel kicks off Oscars with anti-GOP political jabs after first professing positivity
"The Academy, as you know, took lengths to expel Harvey Weinstein from their ranks," Kimmel said. "What happened with Harvey and what's happening all over is long overdue ... if we can work together to stop sexual harassment in the workplace.
"If we can do that, women will only have to deal with that every other place they go," he joked.
Gesturing to a giant statue on the stage, he praised Oscar, himself for keeping "his hands where you can see them" and for having "no penis at all." But Kimmel introduced the broadcast as "a night for positivity."
On a more serious note he added, "We can't let bad behavior slide anymore... the world is watching us."
PHOTOS: 2018 Oscars red carpet
Kimmel wasn't the only person to bring attention to the Weinstein scandal; accusers Ashley Judd and Mia Sorvino walked the red carpet together.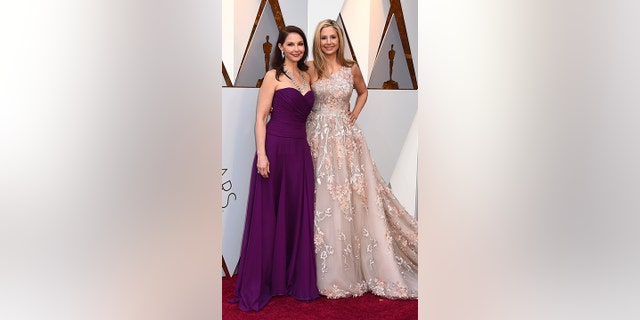 Judd was the first big-name actress to go on the record with allegations of sexual misconduct against Weinstein, is among the scheduled presenters. Sorvino accused Weinstein of ruining her career after she refused to comply with his sexual advances.
Judd was later joined by fellow Weinstein accusers Salma Hayek and Annabella Sciorra who introduced a montage that celebrated diversity in cinematic storytelling — including gender and race.
Kimmel's decision to address Weinstein at the Oscars came as a surprise after the late night host promised last week he would not talk about the disgraced movie mogul.
He told "Good Morning America" on March 6, when it comes to the "serious subject" of the multiple allegations of sexual assault and harassment that have plagued the entertainment industry he would stay mum.
"This show is not about reliving people's sexual assaults," Kimmel said last week. "It's an award show for people who have been dreaming about maybe winning an Oscar for their whole lives and the last thing I want to do is ruin that for someone who is nominated."
The ABC star explained, "That's not what I want to do. I'm not going to stop any behavior with my jokes."