Oprah, Reese Witherspoon have major Photoshop fails in Vanity Fair issue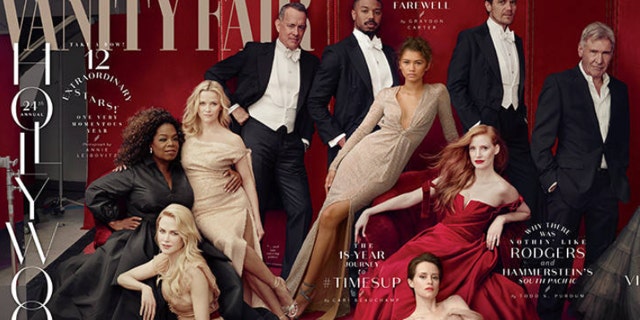 The Twitterverse is freaking out over professional shots of Oprah Winfrey and Reese Witherspoon, in which both actresses appear to have some extra body parts.
On Thursday, Vanity Fair released its 24th annual, Annie Leibovitz shot, Vanity Fair Hollywood issue, featuring the top 2018 faces of the industry. But instead of raising conversation about the year's top actors and actresses, the issue seemed to spark confusion over the stars' limbs.
In the cover photo, Witherspoon is garbed in a beaded gown with a high slit, that shows off her legs as she leans on friend and "Wrinkle in Time" co-star Oprah. But it appears that the actress has three legs.
Twitter users took the platform to express their confusion.
One user tweeted, "[I'm trying to] figure out how many legs Reese Witherspoon's got in here, it's been bothering me for the last five minutes."
It didn't take long for the image of Witherspoon's three legs to go viral and after catching on to the Twitter trend, the "Big Little Lies" actress jokingly said, "Well...I guess everybody knows now...I have 3 legs. I hope you can still accept me for who I am. (and I will never apologize for snuggling @Oprah .. if you get the opportunity, I highly recommend it;)."
But Witherspoon's Photoshop fail wasn't the only one. In a separate shot of Oprah, Witherspoon and Tom Hanks, Twitter users also noticed that the talk show mogul appeared to have three hands.
One Twitter user tweeted, "Oprah has 3 hands in this photo. THREE HANDS. Reese: 3 legs. Oprah 3: hands."
In the photo, Oprah has one had wrapped around Witherspoon's waist and her other hand on hip. But then, the star appears to have another hand placed on her lap.
After Oprah's third hand became another Twitter trend, the star responded to Witherspoon's original tweet about her legs and said, "I accept your 3d leg. As I know you accept my 3d hand."
Later on, Vanity Fair took to Twitter to defend the Witherspoon image and said in a tweet, "While we would have loved the exclusive on @RWitherspoon's three legs, unfortunately, it's just the lining of her dress."
The magazine went on to joke about Oprah's Photoshop mishap.
"As for @Oprah, how can we expect her to juggle it all with just two hands?... (We are correcting this error online.)"