Off-camera protest overshadows Ryan Lochte's debut on 'Dancing with the Stars'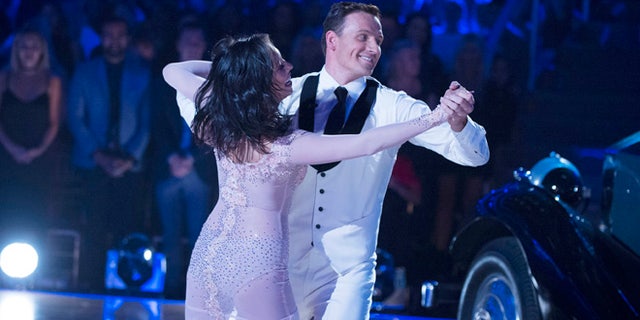 Ryan Lochte's first foray onto the ballroom dance floor was overshadowed by two men rushing the stage following his performance on "Dancing with the Stars."
The Cuban-American swimmer was getting comments from judge Carrie Ann Inaba after dancing a foxtrot with Cheryl Burke when the two men, wearing white shirts with a red circle and line over Lochte's last name stepped onto the stage from the audience.
Audiences at home could only see Inaba's reaction as the men approached.
"Hey, back off," Inaba said as the altercation was occurring off screen.
ABC released footage showing one of the men stepping between host Tom Bergeron and the camera. As he turns toward the camera, the attacker is seen tackled by security as the other protester is escorted off stage.
Los Angeles police spokesman Officer Mike Lopez told reporters that the two men were arrested on suspicion of criminal trespassing. He did not have the men's names.
When the show returned, Bergeron explained they were interrupted by "a little incident" and thanked the ABC series' security team "for staying in shape."
The 32-year-old Olympic swimmer told Bergeron that "so many feelings are going through my head right now." Lochte added that he was "a little hurt, but I came out here. I wanted to do something I'm completely not comfortable with, and I did."
Lochte and some of his teammates have been the object of scorn since they were involved in an early-morning drunken encounter at a Brazil gas station during the Olympics before claiming they were threatened and robbed.
He was banned for 10 months, required to forfeit $100,000 in bonuses and will miss the 2017 world championships.
Despite the incident – which occurred towards the end of the show – the first night of "Dancing with the Stars" season 23 got off to a great start.
Lochte's fellow Olympic gold medalist Laurie Hernandez tied for the top of the leaderboard with a great cha cha routine to Bonnie McKee's "American Girl." The 16-year-old Latina superstar received a combined score of 31 out of 40.
They are tied for first place with IndyCar racer James Hitchcliffe and pro Sharna Burgess.
Lochte and Burke danced to "Call Me Irresponsible" and received a combined score from the judges of 24 out of 40.
The other Latino in the show, actor Jake T. Austin, performed a jive to One Direction's "Kiss You" with pro Jenna Johnson and received a 22 out of 40 points.
The Associated Press contributed to this report.
Like us on Facebook
Follow us on Twitter & Instagram