Nikki Bella cries to John Cena while discussing having children together in new 'Total Bellas' clip
A trailer teasing the upcoming season of "Total Bellas" showed Nikki Bella crying to her ex-fiance John Cena as the two discussed having children together.
Bella, 34, was captured crying as she explained to Cena, 41, that she wanted to be a mother.
"I'll never force you not to be a mom," Cena told Bella.
"I thought I could really sacrifice that but I just can't," she responded.
JOHN CENA AND NIKKI BELLA SHARE INSPIRATIONAL POSTS WITH FANS ON WHAT WOULD HAVE BEEN THEIR WEDDING DAY
"I'm not sure we should go through with this," he answered.
The trailer also showed Bella carrying her sister, Brie Bella's 11-month-old daughter while trying on a wedding dress.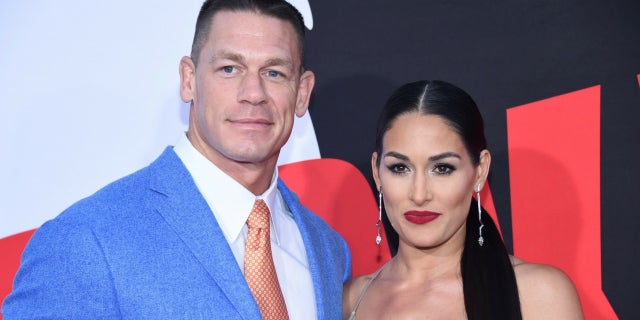 Cena and Bella announced last month that they were splitting up after six years together. They did not state why they were splitting but some insiders said Cena previously expressed having doubts about ever getting married. The couple was slated to be married on Saturday, May 5, 2018, in Mexico.
Cena and Bella both shared inspirational messages with their followers on social media Saturday.
KATHY GRIFFIN CLAIMS SHE'S ON A 'KILL LIST,' SAYS INDUSTRY STILL SHUNS HER FOR TRUMP MASK PICTURE
"If you choose to keep moving, no matter how low the road takes you, it will eventually begin to climb back up. #NeverGiveUp," Cena tweeted.
"Chin up princess or the crown slips," Bella posted on her Instagram.
Season three of "Total Bellas'" premieres on Sunday, May 20 on E!.