Morrissey says Royal couple 'staggeringly arrogant' after death of suicide hoax nurse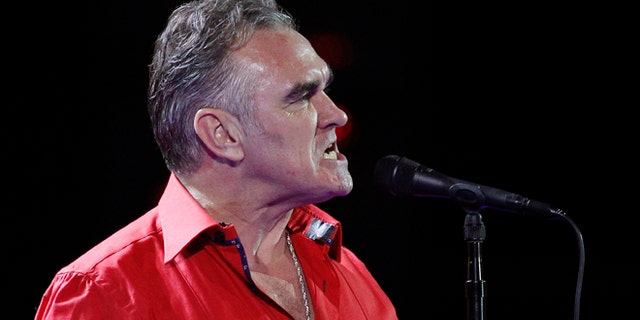 Eighties British pop star Morrissey wondered aloud if the Duchess of Cambridge should take any blame for the tragic death of Jacintha Saldanha, the nurse who committed suicide after putting through a hoax phone call to the Duchess while she was at her hospital being treated for extreme morning sickness.
The ex-Smiths frontman accused the Royal Family of "staggering" arrogance on Wednesday, and questioned if Kate was really suffering from pregnancy sickness at all.
"There is no blame so far placed at Kate Middleton, who was in the hospital, as far as I could see, for absolutely no reason," Morrissey, 53, told a New Zealand TV channel. "She feels no shame about the death of this woman. The arrogance of the British royals is staggering."
He added: "Does she have a health condition? Is it anorexia or is it pregnancy? So much hoo-ha and then as soon as this woman dies she's out of hospital? It doesn't ring true."
The Royal Couple issued a statement following the news of the nurse's death: "The Duke and Duchess of Cambridge are deeply saddened to learn of the death of Jacintha Saldanha. Their Royal Highnesses were looked after so wonderfully well at all times by everybody at King Edward VII Hospital, and their thoughts and prayers are with Jacintha Saldanha's family, friends and colleagues at this very sad time."
The hospital also released a statement, saying: "She was an excellent nurse and well-respected and popular with all of her colleagues.... The hospital had been supporting her throughout this difficult time."
An inquest into Saldanha's apparent suicide revealed on Thursday that she was found hanging in her room, had wrist injuries and left three notes.
Coroner's officer Lynda Martindill said Saldanha was discovered hanging by a scarf from a wardrobe in her nurses' quarters on Friday by a colleague and a member of security staff at London's King Edward VII Hospital.
Martindill said an attempt to revive Saldanha failed. The case is being treated as an apparent suicide.
Police detective chief inspector James Harman said Saldanha, 46, also had injuries to her wrists.
He told the inquest at Westminster Coroner's Court that two notes were found at the scene and another among Saldanha's belongings. He said there were no suspicious circumstances, meaning nobody else was involved in Saldanha's death.
Harman said that police were examining the notes, interviewing the nurse's friends, family and colleagues and looking at emails and phone calls to establish what led to her death.
He also said detectives would be contacting police in the Australian state of New South Wales to collect "relevant evidence."
Saldanha answered the phone last week when two Australian disc jockeys called to seek information about the former Kate Middleton, who was being treated for severe morning sickness. The DJs impersonated Queen Elizabeth II and Prince Charles, and Saldanha was tricked into transferring the call to a nurse caring for the duchess, who revealed private details about her condition.
Saldanha, who was born in India, lived in Bristol in southwestern England with her husband and two teenage children.
The family was not in court. Lawmaker Keith Vaz, who has spoken on their behalf, said the nurse's loved ones "need time to grieve."
Vaz said a memorial Mass would be held Saturday at London's Roman Catholic Westminster Cathedral.
The AP contributed to this report.