Michael Kors: The man behind the label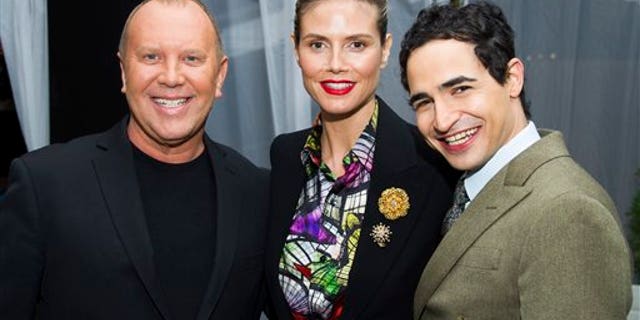 Michael Kors was all smiles at the "Project Runway" fashion show last week, schmoozing with fellow judges Heidi Klum and Nina Garcia, but behind the scenes the designer was intensely preparing for his own New York Fashion Week show.
Kors' publicist told FOX 411 ahead of his Wednesday runway display he was 100 percent focused on his upcoming show.
It's that kind of dedication to his craft and his business that has taken Kors from selling clothes from a makeshift shop in his parents' basement to the top of the fashion world.
"He knew from day one what his 'it' girl looked like and wanted to wear," Jan Showers, owner of interior design firm Jan Showers and longtime friend of Kors, told FOX 411.
Kors, 53, established his label in 1981. The Long Island native started selling his designs at New York boutiques before even graduating from college. Bergdorf Goodman and Saks Fifth Avenue picked up his designs, but things really took off when he was named designer, and then creative director, at French fashion house Celine in 1997. Kors made a name for himself with what New York Magazine has described as his "creamy uptown pieces [for] American women with a yen for luxurious reboots of classics."
Kors recently announced his departure from the show that helped make him famous -- designer Zac Posen is taking his seat on the judging panel -- and many speculate he will use this time to focus on building up his multi-billion dollar namesake fashion empire.
Today the company produces a wide variety of retail and apparel items through its various labels. And the label has expanded to include handbags, shoes, watches, jewelry and perfume in its more than 200 stores and shops worldwide.
Michael Kors Holdings Limited, Kors' Hong Kong-based company of which he is chief creative officer, went public on Dec. 14, 2011. Kors Holdings priced its initial public offering at $20 and the stock began trading on the New York Stock Exchange under the ticker KORS the next day.
Now a $1.3 billion empire, it's hard to believe the company was a $20 million-in-revenue business as recently as 2004. "And Kors Holdings soared 144 percent in the 90 days after going public," according to a report in Bloomberg Markets Magazine.
Showers said she believes it's Kors' "complete and total passion" for his work that sets him aside from other designers.
She believes Kors' ability to stitch each of his designs -- which really are ready-to-wear -- with an effortless, yet polished feel that will keep him on top.
"He's the ultimate, iconic American designer -- bottom line."