Michael Douglas' Ex Claiming Half His Earnings From 'Wall Street 2'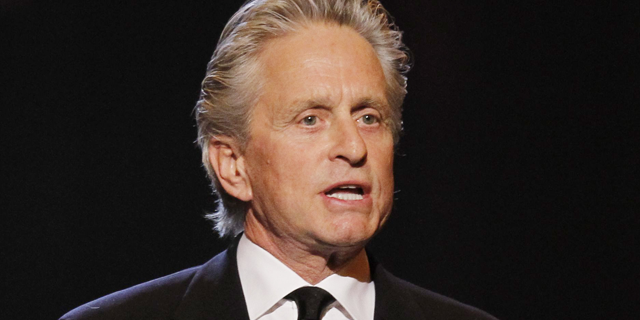 Michael Douglas' return to his Academy Award-winning "Wall Street" role also spawned a legal sequel to his decade-old divorce.
Lawyers representing the actor and ex-wife Diandra Douglas tangled in a New York court Tuesday over her claim that she's entitled to half his earnings from "Wall Street: Money Never Sleeps," set to open Sept. 24.
The dispute has featured accusations of avarice on both sides and an unusually detailed look at Hollywood-style divorce.
The couple's 23-year marriage ended in 2000. He's now married to Oscar-winning actress Catherine Zeta-Jones.
The former couple's multimillion-dollar divorce gives Diandra Douglas the right to share in proceeds from spinoffs from work Michael Douglas did while they were married.
That, her camp says, should include director Oliver Stone's "Wall Street" follow-up, in which Michael Douglas reprises and updates his Oscar-winning role as Gordon Gekko, the take-no-prisoners financier whose declaration that "greed is good" became either a slogan or an epithet for the 1980s, depending on one's perspective.
But Michael Douglas' lawyer says his ex is misinterpreting the agreement, and it doesn't apply to the "Wall Street" sequel. It wasn't on the horizon when the two split, and he didn't then have so much as a guarantee that he'd be in a sequel if one were ever made, said his lawyer, Marilyn B. Chinitz.
Since their divorce, Diandra Douglas has made $6.3 million from her stake in residual proceeds from other past projects, Chinitz said.
"When does it stop? ... She's not Mrs. Michael Douglas" anymore, Chinitz told a Manhattan judge Tuesday. "It's enough. It's time for Ms. Douglas to move on and let Mr. Douglas move on and enjoy his life, without having to concern himself with someone trying to claw back moneys that they're not entitled to."
Diandra Douglas' lawyer says her client isn't money-hungry and isn't clinging to her ex-husband.
"She has her own identity, and she's proud of it," said her lawyer, Nancy Chemtob. "My client is not greedy. The exact opposite is true. Mr. Douglas is seeking to shirk his financial responsibility that was entered into when he signed this contract."
Michael Douglas' side also says the dispute belongs in Santa Barbara, Calif., where the couple hammered out a divorce agreement so extensive that the particulars are recorded in an hours-long videotape made before a judge, according to Chinitz.
Diandra Douglas chose to pursue the case in New York, where she and the actor both have homes.
Neither Douglas was in court Tuesday. State Supreme Court Justice Matthew F. Cooper didn't issue a ruling or set a timeframe for one.
Insights into the former couple's life together were bared earlier this year, when their son, Cameron, faced sentencing after pleading guilty to a federal drug charge for dealing methamphetamine from a trendy Manhattan hotel. In a letter to his son's judge, Michael Douglas described their union as a "bad marriage."
Both parents were in court when Cameron Douglas, 31, was sentenced in April to five years in prison.
Michael Douglas, 65, was recently diagnosed with a tumor in his throat. He's doing well and feeling optimistic, Chinitz said.