Matthew McConaughey Wants To 'Make Another Baby' With Wife Camila Alves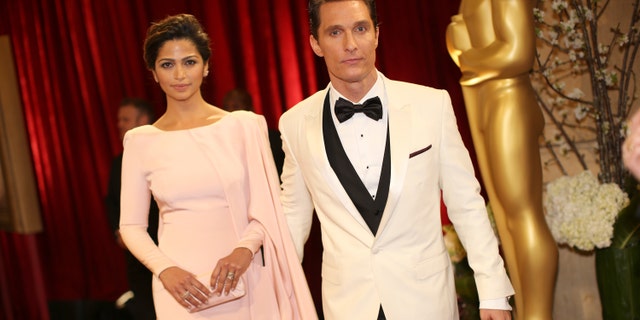 Fresh off his Oscar win, actor Matthew McConaughey said he only wanted one thing: some time with his wife Camila Alves.
Just minutes after being named Best Actor for "Dallas Buyers Club," the 44-year-old told British newspaper The Sun the couple would not be staying at the after parties for long.
"I want to go home and make another baby!" he said.
McConaughey met his Brazilian model wife in 2006. The two became engaged in December 2011 and married in June 2012. They are parents to Levi, 5, Vida, 4 and Livingston, 14 months.
"I'm having a ball right now," he told People. "I try to give a lot to my life and the people in it, and I know they sure give back. I have a lot to be thankful for."
McConaughey made sure to thank his family in his acceptance speech.
"To my wife, Camila, and my kids, the courage and significance you give me every day I do out the door is unparalleled. You are the four people in my life that I want to make the most proud of me. Thank you," he said.
The movie star said his three children are beginning to question what he does for a living.
"They understand that papa goes to work, that there's a difference between reality and movies, and that he can be in more than one place at a time," he told the press after his win. "I took Levi to set on 'Lincoln Lawyer' and let him watch a scene and then let him watch it on the monitor, and for him it was a magic trick – you can be in more than one place at one time."
Follow us on twitter.com/foxnewslatino
Like us at facebook.com/foxnewslatino